Since bursting onto the big screen with her Oscar-winning breakthrough performance in '12 Years A Slave', Lupita Nyong'o quickly became the world's sweetheart. And a very stylish one at that.
Her beauty is undeniable. Whether dressed in a powder blue gown at the 86th Academy Awards on Sunday evening or stunning in a red cape at the Golden Globes, she really is breathtaking.
But the woman of the moment revealed that she hasn't always been so confident in her own skin.
As a young girl Lupita said she used to question the beauty of her dark skin, a self-consciousness she blames on the rigid beauty standards of Hollywood and the media.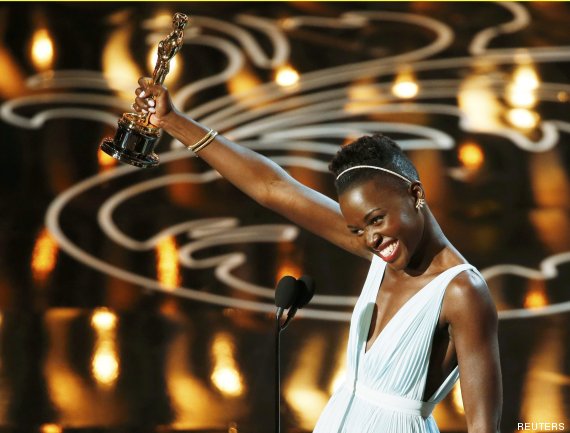 Speaking at Essence's Black Women In Hollywood Luncheon she said: "I remember a time when I too felt unbeautiful. I put on the TV and only saw pale skin, I got teased and taunted about my night-shaded skin.
"And my one prayer to God, the miracle worker, was that I would wake up lighter-skinned. The morning would come and I would be so excited about seeing my new skin that I would refuse to look down at myself until I was in front of a mirror because I wanted to see my fair face first. And every day I experienced the same disappointment of being just as dark as I had been the day before."
Lupita's decision to speak out was spurred by a letter she received from a fan. It read: "Dear Lupita. I think you're really lucky to be this black but yet this successful in Hollywood overnight. I was just about to buy Dencia's Whitenicious cream to lighten my skin when you appeared on the world map and saved me."
She reveals that her own lightbulb moment came when seeing supermodel Alek Wek. "Even Oprah called her beautiful and that made it a fact," she said.
She hopes that her presence in Hollywood will inspire young girls to value their own beauty especially that on the inside.
"I hope that my presence on your screens and in the magazines may lead you, young girl, on a similar journey," she said. "That you will feel the validation of your external beauty but also get to the deeper business of being beautiful inside. There is no shade to that beauty."
Lupita echoed this sentiment on Sunday's 86th Academy Awards by offering her Oscar award to inspire children across the world to follow their dreams.
She said: "When I look down at this golden statue, may it remind me and every little child that no matter where you're from your dreams are valid."