Ronnie O'Sullivan made a record 12th competitive 147 break to complete a 9-3 win over Ding Junhui in the Welsh Open final.
The Chigwell cueman led 7-1 after a one-sided opening session and, after Ding hit back with consecutive centuries, he pulled away again.
O'Sullivan rounded the match off in the ultimate style with a maximum, playing to the crowd as he switched to his left hand to sink the final black.
A kick on the final blue threatened to derail the maximum but the five-time world champion potted a good pink and finished the job.
Asked when the 147 entered his thoughts, O'Sullivan told BBC Wales: "I think it was on about 48 when I went into reds, they split nicely and I looked at the scoreboard and saw it was all blacks.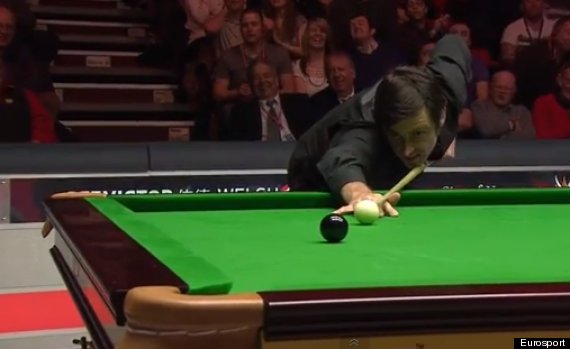 O'Sullivan eyes up the final black ahead of completing his 147
"I thought 'no, just get the match won', but on about 60 or 70 I thought 'I've got to go for it'."
Regarding the swift change of hands before the final ball, he added: "I've made 11 (maximums) right-handed... that counts as a left-handed 147 because if I missed that, it wouldn't have counted!"