Moscow has "complete operational control of the Crimean peninsula", US officials have conceded, as Secretary of State John Kerry announced plans to fly to Kiev try to prevent a Russian advance deeper into the beleaguered Ukraine.
Ukrainian prime minister Arseniy Yatsenyuk said there was no reason for Russia to invade and warned that "we are on the brink of disaster".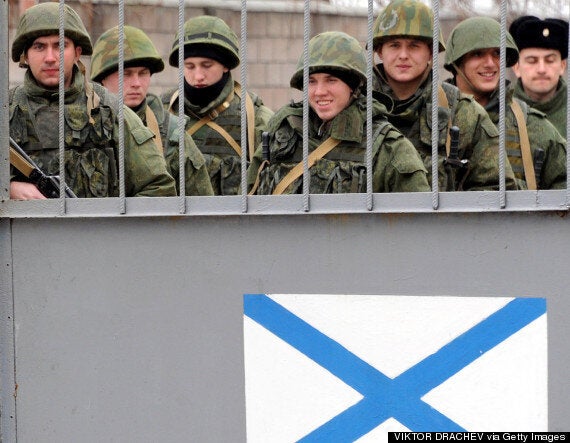 Russian naval infantry soldiers (marines) stand behind the gates of their base as they guard the Orsk Russian landing ship anchored in the Ukraine's Black Sea port of Sevastopol
"Putin is not going to have a Sochi G8, he may not even remain in the G8 if this continues," Kerry told NBC. "He may find himself with asset freezes, on Russian business, American business may pull back, there may be a further tumble of the ruble."
Last night, Prime Minister David Cameron spoke for a short time with US President Barack Obama, who also took calls from Polish president Bronisław Komorowski and the German chancellor, Angela Merkel.
In a conference call with reporters later on Sunday, three senior US administration officials were "not focused right now on the notion of some US military intervention. I don't think that would be an effective way to de-escalate the situation."
The US is reviewing "all of our economic and trade cooperation with the Russian Federation", one of the officials told reporters.
The G7 - made up of Canada, France, Germany, Italy, Japan, the UK and the US - along with the president of the European Council and president of the European Commission, said Russia's actions in Ukraine "contravene" the principles and values of both the G7 and G8, and called on Moscow to "address any ongoing security or human rights concerns that it has with Ukraine through direct negotiations", offering to facilitate talks.
Foreign Secretary William Hague held talks in Kiev last night with "a wide range of Ukrainian political leaders".