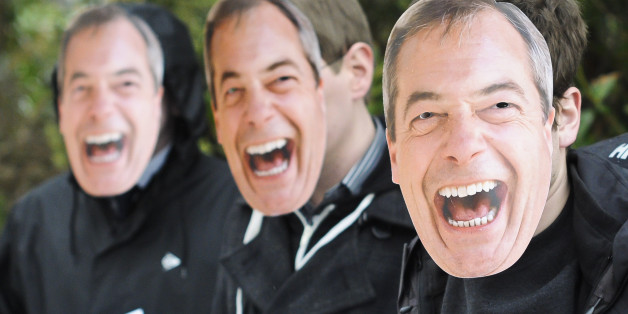 Ben Birchall/PA Wire
Nigel Farage and Ukip are set to enjoy much more television coverage for this May's European and local elections as broadcasting regulator has now deemed them a "major party" alongside Labour, the Tories and the Lib Dems.
Ofcom's decision means that Ukip will by law be given its "due weight" in television coverage over the period, reflecting the fact they have demonstrated they have sufficient electoral support.
The extra coverage to reflect "due weight" for Ukip may seem surprising as Nigel Farage has already chalked up one of the largest number of appearances on BBC Question Time among politicians appearing 15 times in four years.
"UKIP has demonstrated significant previous electoral support at the last two sets of European Parliamentary elections in England; and demonstrates significant current support in Great Britain-wide opinion poll," the regulator concluded.
This means that Ukip will be guaranteed airtime alongside the other main parties Labour, the Tories and the Lib Dems for its party election broadcasts across Great Britain as a whole, including Wales. However, Ukip will not get the same boost for any broadcasts just for Scotland due to their poor electoral support.
Ofcom's decision to upgrade Ukip to a "major party" was criticized by Green Party leader Natalie Bennett as a "unduly narrow and unrepresentative view of the British political landscape".
She told HuffPostUK: "It is based on national polling figures, and lacks any qualitative element.
"Those national figures ignore strong regional variations - that the Green Party is running the council in Brighton and Hove, the official opposition in Norwich and likely to be in the same position in Solihull after the next elections, was third in front of the Lib Dems in the London mayoral and Assembly elections in 2011, and has an MP in Brighton Pavilion."
It remains to be seen if Ukip will be classed as a "major party" for the 2015 general elections, as such a judgement could pave the way for Nigel Farage to have a place in the TV debates alongside David Cameron, Nick Clegg and Ed Miliband.
UKIP director of communications Patrick O'Flynn welcomed the decision, saying: "This Ofcom decision was a fairly obvious one given the success of UKIP over the past few years.
"We hope that all broadcast outlets will reflect on the fact that patterns of support in British politics are changing very quickly and that more and more people are supporting and voting for UKIP.
"It makes no sense for patterns of coverage to be based on patterns of electoral support that pertained four years ago. UKIP is a major player in British politics now."