Syrian refugee camps may be a breeding ground for terrorism, Malala Yousafzai has warned.
The 16-year-old education campaigner, who was shot in the head by the Taliban for fighting for girls' education rights, was speaking to HuffPost UK editor-in-chief Carla Buzasi at Vodafone's Connected Women Summit.
"If we do not give education to these little children - who are now homeless and suffering from child labour - these children can then in future become terrorists", she told Buzasi on Monday evening.
"This terrorism can then spread and it can affect the lives of every person."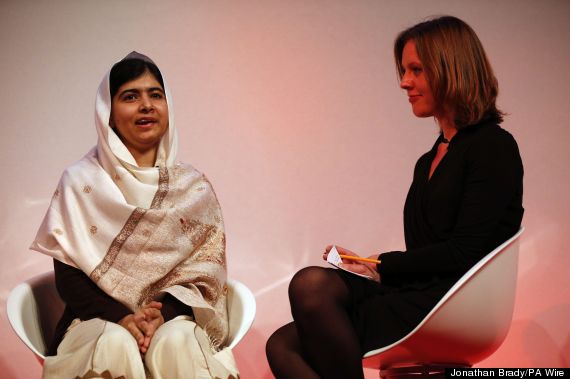 Malala is committed to protecting Syrian children and granting them access to education. In February, she visited Jordan to experience first-hand the fate of more than one million displaced Syrian refugee children.
According to UNICEF, nearly two million Syrian children have dropped out of school since 2012.
Although children in many countries need support, Malala told HuffPost UK that the greatest emergency, at present, is in Syria.
She added: "We must help those children who are now refugees because if we remain silent and do not help them, it can then affect our future and it can affect their future."
Malala recounted meeting Syrian refugees in Jordan who hadn't attended school for three years. These children, she says, see little value in education and would sooner earn money in child labour.
"Children are children they try to look at their environment and they learn from it," she said.
But if children live in an environment where they see terrorism and people being killed, she said, the future will become very dark.
"For their bright future, for our bright future, for the world's bright future, education is important."
During the interview, Malala also hinted at a future in politics. Asked about her aspirations for the future, the 16-year-old said: "I'm interest in politics and I want to help my country... I want to see a bright future for Pakistan. We have suffered a lot from terrorism and poverty and illiteracy."