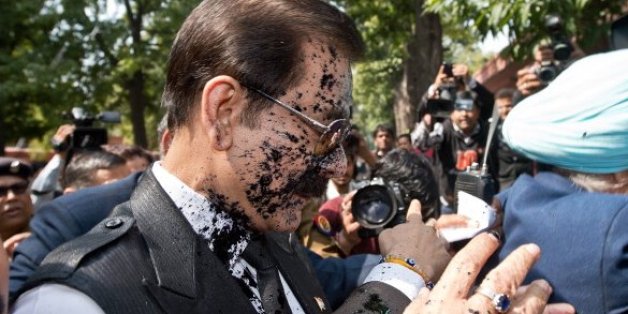 AFP PHOTO/Prakash SINGH
Subrata Roy, the flamboyant Indian billionaire at the helm of the Sahara Group, had black ink thrown in his face as he arrived at the Supreme Court, where he is accused of defrauding investors of over 200 billion rupees (£2.1 billion).
The attacker, who managed to get past Roy's police and security escort, shouted "Subrata Roy is a thief! He has cheated and robbed us" as he splashed the tycoon, blackening his forehead and the side of his face.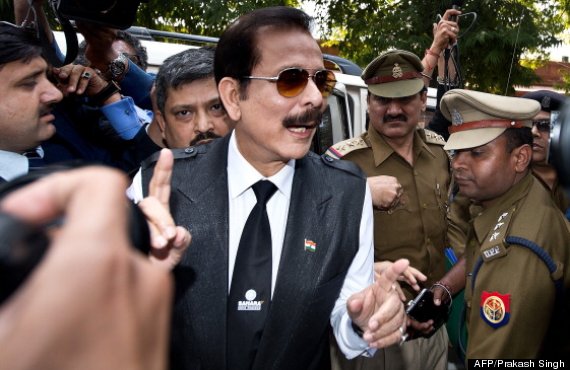 Subrata Roy before he was hit by the ink
Police detained the assailant, who was later identified as lawyer Manoj Sharma, and took him away.
Roy's Sahara Group, which has a net worth of £6.5 billion ($11 billion), has been accused by India's securities regulator of owing millions of investors as it raised nearly £2.1 billion through bonds that were later found to be illegal.
Many of the investors are poor Indians who lost their life savings, although Sahara India say they owe much less and have already repaid many directly.
Investors have been increasingly enraged by the treatment Roy has received in custody, as he has stayed in a luxury guesthouse since his arrest and travelled to the Supreme Court in New Delhi for his hearing in a limousine.
Roy's Sahara empire has extensive real estate holdings including New York's Plaza Hotel and London's Grosvenor House. It also has a range of interests in media, entertainment and microfinance.