The United Nations has release a report claiming that legalising cannabis poses a "grave danger to public health and well-being".
Recent months have seen positive moves by several states in the US, and by the government of Uruguay, to legalise marijuana, however the head of the International Narcotics Control Board (INCB), the UN body for enforcing international drug treaties, dismissed the changing legal frameworks as "misguided initiatives".
Citing statistics that point to an increase in cannabis-related traffic accidents in Colorado, one of the states in which it is legal to buy marijuana, INCB chief Raymond Yans said the programme was "poorly implemented, adding: "Drug traffickers will choose the path of least resistance, so, it is essential that global efforts to tackle the drug problem are unified.
"INCB is concerned about some initiatives aimed at the legalisation of the non-medical and non-scientific use of cannabis. Such initiatives, if pursued, would pose a grave danger to public health and well-being, the very things the states, in designing the conventions, intended to protect.
"INCB looks forward to maintaining an ongoing dialogue with all countries, including those where such misguided initiatives are being pursued, with a view to ensuring the full implementation of the conventions and protecting public health."
In January legislation came into force that made it legal in Colorado for licensed suppliers to sell marijuana to anyone over 21, with Washington State likely to pass similar legislation in the next few months. Uruguay's parliament voted in December to legalise and regulate the sale and production of cannabis.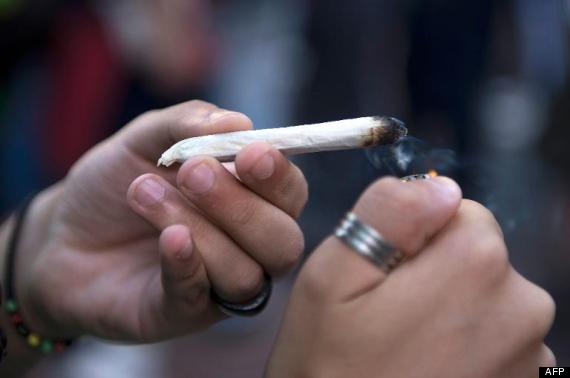 Several US states have moves to legalise cannabis
More from the Press Association:
In the report, the INCB attempts to counter-attack some of the arguments put forward in favour of legalising the drug. Supporters of more liberal drug laws argue that enforcement expenses resulting from the current international drug control regime, are the source of most costs.
However, the INCB said government revenue from the legal sale of alcohol and tobacco is less than the economic and health costs of their abuse, while there might be increased law enforcement costs due to higher crime rates occurring under more permissive laws. "In many countries, alcohol, not drugs under international control, is responsible for far more arrests than... illegal drugs combined," it added.
Slapping down arguments that criminals will be deprived of earnings if drugs were legalised, the UN said organisations may enter the illicit markets, citing figures for the UK showing nine to 20% of the domestic cigarette market now consists of smuggled cigarettes.
"One can also imagine states having to bear regulation costs of such alternative drug regimes," the report said. "Costs of regulation include, among other things, monitoring and controlling cultivation, production, manufacturing and distribution, as well as monitoring use, and its impact."
It added: "If currently controlled substances were regulated as alcohol is in many countries, more people would use them and become addicted, resulting in more adverse consequences."
A Home Office spokesman said: "We welcome the INCB's report and agree with the finding that cannabis poses a variety of dangers to public health and well-being. That is why we have no plans to legalise cannabis in the UK and it is banned under the Misuse of Drugs Act 1971.
"Our approach on drugs remains clear. We must prevent drug use in our communities, support users through treatment and wider recovery and ensure law enforcement agencies tackle the organised criminals behind the drugs trade."
Danny Kushlick, head of external affairs at Transform Drug Policy Foundation, a charitable think-tank that campaigns for legal regulation of drugs in the UK and abroad, said: "As the self-proclaimed guardians of the drug conventions, the INCB defend treaties that are fraught with scientific and legal inconsistencies, including conflicts with other treaties and norms developed within the UN system.
"In the case of cannabis, there has never been a review based on the required criteria. President Yans's disrespectful and arrogant behaviour toward the Uruguayan Government will further affect the reputation of the Board as a whole. Reform-minded countries will have little choice but to disregard future recommendations from or dialogue with the INCB. In short the INCB appears to have signed its own death warrant."
TOP STORIES TODAY