A high-class escort who describes herself as a "true introvert" has revealed a breakdown of the number of flights, free meals and time she has spent on beauty and exercise over the course of 365 days.
The 29-year-old charges clients around $2,000 an hour for sex, and was revealed to have take 60 flights, jetted to 19 different cities and had 177 free meals. Surprisingly, only 201 hours were spent on beauty and exercise.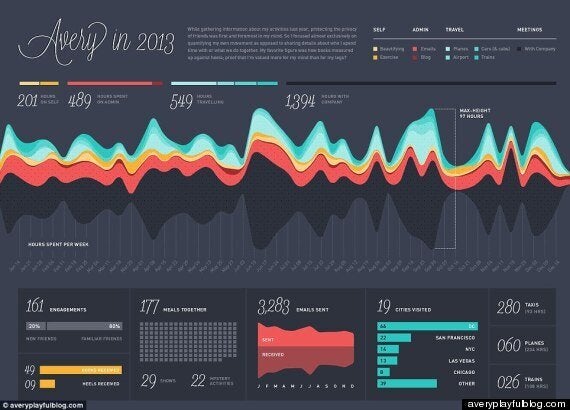 She wrote: "It was a little demoralizing to see that I spent about as much time in salons and spas as I did on physical activity, because I'd prefer to be moving more than I would having my nails painted, but I suppose it's a fair sacrifice to make to the gods of glamour."
She spent 1,394 hours entertaining men, reported The Mail Online, and her busiest time was between 30 September to October 14, during which she spent 97 hours at work. She has also been quoted in the past on Esquire.com as saying that most of her clients are married men, and that she has been doing this for three years.
She also said the infographic helped her realise she's actually busier than she thinks.
"...on a deeper level, as a true introvert — meaning someone who generates energy by being in calm, quiet places alone and expends energy when being out in public, interacting with others, etc — it was immensely gratifying to see that there were a few near 100 hour long weeks. Sometimes I have a hard time knowing if I'm really objectively busy or if I feel overwhelmed because of what a homebody I can be."
Elsewhere on the blog, Avery writes that her two biggest resolutions for the year are to "read 100 books" and "visit 20 museums", and describes herself as " determined, focused, and competent."