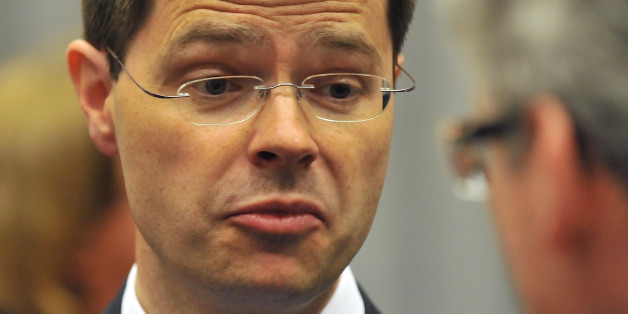 GEORGES GOBET via Getty Images
Tory immigration minister James Brokenshire has been savaged by business groups for his "feeble and pathetic" speech as he accused immigration of benefitting "employers who wanted an easy supply of cheap labour".
A spokesman for the Institute of Directors told HuffPostUK: "It's not good enough for ministers to blame business. Immigration policy is in the control of politicians, and if there are cases of immigrants being exploited and paid less than the minimum wage, then the government must use its power to crack down on this law-breaking."
This comes as Brokenshire used his first speech as immigration minister to hit out at immigration benefitting the "wealthy metropolitan elite who wanted cheap tradesmen and services" at the expense of "ordinary, hard-working people".
In response to Brokenshire's speech, Neil Carberry, CBI director for employment and skills, told HuffPostUK: "Creating jobs and growth for the UK means ensuring our companies can compete globally. Of course we need a migration policy that ensures we avoid negative social impacts on people, but we cannot afford to send a signal that Britain is closed for business.
"Our leading firms rely on global mobility and free movement in Europe to support their activities, which keep British people in work."
Brokenshire was appointed immigration minister last month after his predecessor, Mark Harper, resigned from the government when it was discovered he had employed an illegal immigrant as a cleaner.
IoD director general Simon Walker said in a statement: "It is feeble and pathetic to hear yet more divisive language from politicians on immigration.
"The UK is an open, trading country that benefits from the skills and ideas of migrants. We will not become more prosperous by closing our borders to talented individuals and entrepreneurs from across the world. This speech seems to be more about political positioning and less about what is good for the country."
The Home Office released a reportedly "suppressed" report showing that migrants have less of an impact in "displacing" native British workers than previously feared.
However, Brokenshire warned against thinking mass migration was "good" for the country and argued: "Uncontrolled mass immigration can force wages down and house prices up and put pressure on social cohesion and public services. And let me be clear – it can also cause displacement in the labour market."
By contrast, business secretary Vince Cable will hit out at immigration "scare stories" and use a speech tonight to explain why he is "intensely relaxed" about the flow of migrants.
The Lib Dem business secretary has raised tensions already by arguing that a big increase in net migration was "good" for the economy and now he will explain why he is "intensely relaxed" about mass migration to Britain.
"I am intensely relaxed about people coming to work and study here and bringing necessary skills to Britain – provided that they pay their taxes and pay their way," he will tell business leaders in a speech at Mansion House tonight.
"And, actually, if you survey the public on migrants who learn English, work hard and pay taxes, you find – as the think tank British Future did in exploring attitudes to Bulgarian and Romanian migrants – that 72% believe we should welcome them."
Making clear he is not "arguing for unrestricted migration", Cable will warn: "Bear down on immigrants, and you lose some of the most dynamic, innovative and imaginative workers in your economy."