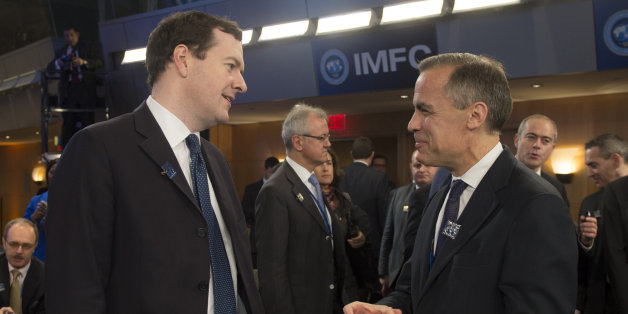 JIM WATSON via Getty Images
George Osborne has been urged to consider appointing female economists to the Bank of England's entirely male monetary policy committee by bank governor Mark Carney, the Huffington Post UK can reveal.
After being sent a list of female economists of sufficient calibre to serve on the Bank's nine person committee which sets the path of interest rates, Carney wrote in a letter: "I will be raising this issue, together with your helpful list of suggestions, in my discussions both here at the Bank and with the Chancellor of the Exchequer."
The Bank of England's governor's letter from last August, disclosed after a Freedom of Information by the Huffington Post UK, comes as the chancellor has been accused of a "women problem" for failing to appoint any women to the Bank's MPC.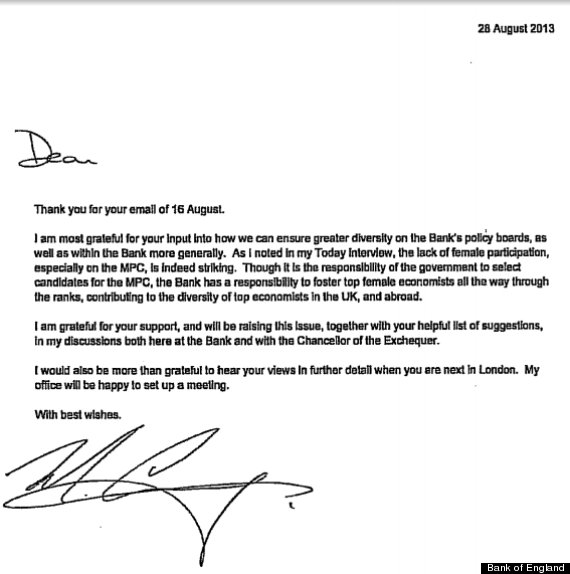 Speaking in August on BBC Radio 4, Carney said the all-male composition of the monetary policy committee was "anomalous" and "striking".
He added: "What we can do at the Bank of England, what we have to do, is grow top female economists all the way through the ranks so that that adds to diversity in macroeconomic thinking, it adds to qualified candidates for the MPC, including qualified candidates to be a future Governor."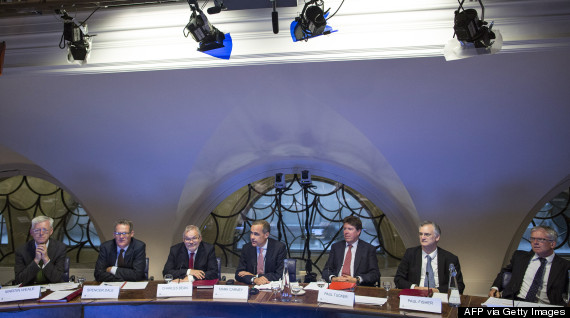 Bank of England's all-male MPC meets in 2012, with then deputy governor Paul Tucker now replaced by Sir Jon Cunliffe
The Bank has never had a female governor and the the last female deputy governor was Rachel Lomax, who left in June 2008. To date, 27 men and 4 women have served on the committee since its creation in 1997.
The MPC has always had one woman over 1997 and May 2010, with Osborne appointing during his chancellorship four men: Martin Weale, Ben Broadbent, Ian McCafferty and Jon Cunliffe.
Nearly half of the 66 people contacted by the Treasury who "may have been interested and suitable" for the last vacancy on the Bank of England's MPC were women, sources told HuffPostUK. The position ended up going in September 2012 to former CBI chief economic adviser Ian McCafferty, whose term runs until September 2015.
Daisy Sands, head of policy and campaigns at the Fawcett Society said: "More women in positions of power, including at the top tables of banking and finance, would help to better lead us through the complex times that we currently face."
"Excluding women from these influential spheres of public life means missing out on the substantial benefits that their greater involvement would bring. Women make a positive difference to actual decision-making itself: greater diversity brings with it a wider spread of expertise and better reflects the life experience of the entire human race.
Professor Danny Blanchflower, former member of the Bank's MPC, told HuffPostUK: "It doesn't seem to be that hard to find high quality female economists to join the MPC and other public bodies. The Tories do seem to have a problem with women, not just on their front bench.
"Economics has increasing numbers of women, my own department at Dartmouth has 6 female economists and my colleague at the University Stirling, Sheila Dow, looks like a highly qualified candidate for the MPC and there are many others. My friend Rachel Lomax was a fantastic Deputy Governor.
"The impression is the Tories couldn't care less about diversity; what matters is if you attended Eton and the Bullingdon club and are a man. No wonder they are so far behind in the polls amongst women."
Labour's shadow chancellor Ed Balls has hit out at Osborne's "astonishing" failure to appoint any women to the Bank's MPC, telling the Guardian: "I think this government's problem with women runs deep."
A Treasury spokesperson told HuffPostUK: "All appointments to the Monetary Policy Committee are based purely on merit. All forms of diversity, including gender are always an important consideration. The Treasury will continue to encourage women to apply for future vacancies on the Monetary Policy Committee".