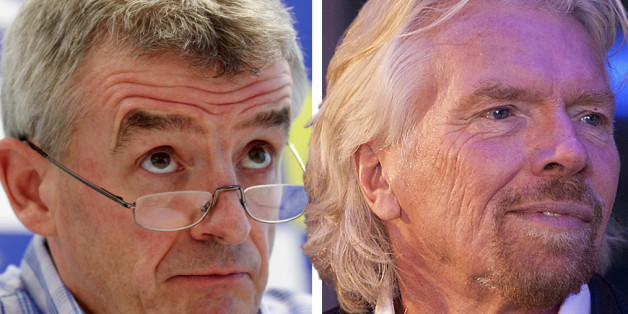 HuffPostUK
Ryanair chief executive Michael O'Leary has mockingly suggested that Sir Richard Branson has "has some kind of autism" because he "can't make eye contact".
The outspoken budget airline boss launched the vicious personal attack on Branson, who founded rival airline Virgin Atlantic, in an interview with the Evening Standard.
"He can't make eye contact. It's like he has some kind of autism. I think he works best on television," he said. "Maybe Stowe [Branson's secondary school] and English public schools have that effect on you."
Branson, who spoke about his "tough" childhood and suffering with dyslexia on Friday at the We Day event in London, has not responded to O'Leary's jibe. However, charities have expressed concern about the "damaging" remarks.
Caroline Hattersley, the National Autistic Society's head of Information, advice and advocacy, told HuffPostUK: "Autism is a spectrum condition which affects everyone differently. Identifying autism with a single characteristic is not helpful and perpetuates misconceptions about the lifelong condition.
"While some people with autism can find making eye contact difficult or even physically painful, others make strong eye contact.
"Such myths can be damaging for people living with autism, making it more difficult for them to have their needs recognised and to access essential support.
"While public understanding of autism has improved in recent years, we still have a long way to go before people with autism can live in a world where they can reach their full potential."
See also:
TOP STORIES TODAY