The Suffragette movement may have begun more than one hundred years ago, but the bravery and selflessness of the women involved echoes to this day - and not just in history books.
Dr Helen Pankhurst and her daughter Laura - descendants of Emmeline Pankhurst, the leader and founder of the Women's Social and Political Union (WSPU) - are working tirelessly to keep the Pankhurst legacy alive.
Activism and advocacy run through their veins and they pair are committed to tackling modern-day issues with the same spirit of their foremothers - yes, foremothers is a word.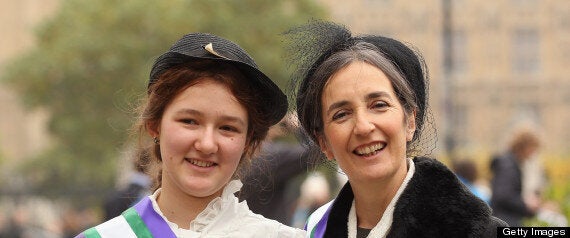 What are the key issues for women in 2014?
H: There is so much work to be done and in so many areas including, violence against women, childcare, economic differences, political representation and inequality in fields such as banking and sciences.
The beauty of social media and the internet is that it brings issues to wider attention and allows individuals to get behind an issue close to their heart.
What issues are close to your heart?
L: Unreported sexual assault is an issue I am particularly passionate about. Unfortunately no one can force victims to report it, I plan to be very active about it.
H: I'm very passionate linking causes between women in UK and internationally. I was born and brought up in Ethiopia. It pains me that women have to traipse everyday to get water, that may not even be clean. So my interests focus on water and sanitation, as well as stopping early marriage and forced marriage.
What do you feel about the 'Hollywoodisation' of feminism - where discussions focus on whether celebrities such as Taylor Swift of Beyonce are feminist or not?
H: This kind of discussion is just pandering to media and celebrities. But if it influences people to find out more about feminism then it can only be a good thing.
I'd like to see more female celebrities coming speaking out about feminism - such as Cate Blanchett's acceptance speech at the Oscars.
L: It would be great to have a purer sense of feminism, but if it can start conversations and reach a wider audience I don't see the harm.
How do you intend to spread the word about feminism?
H: Through social media - it allows a lot of different aspects of cause to bubble up. The actions of individuals can be endorsed by tens of thousands.
Personally I use it to share activities and campaigns I am passionate or working on with Care International.
L: I am not on Twitter, but I do spread the word on Facebook. I also think that media calls such as the march to Westminster on International Women's Day is important to help spread the word.
How is the Pankhurst legacy relevant today?
L: When people think of the name Pankhurst, they automatically think of Emmeline. Often people aren't aware of the generations since - such as my granddad, my mum and myself - who are continuing advocacy work to the present day.
I think the Pankhurst legacy ties with the past but, as there are Pankhursts still campaigning, it helps remind people that things aren't finished and not to become complacent.
H: The Pankhurst legacy has become associated with so many things - strong female leadership, a loud response to inequality and a powerful image of what feminism is about. It is the very opposite of being a doormat.
Historically the Pankhursts have carried the flag in a very visible way - and it's important that Laura and I continue the work.
What does being a Pankhurst mean to you?
H: Being a Pankhurst is about championing equality, diversity and humanity - in all its forms. I embody the Pankhurst spirit through my activities in my spare time and in the way I brought up my children, as a single mother.
L: Being a Pankhurst allows me to take a step back and put things into perspective. There are so many bigger problems in the world.
I always knew I was going to do something Pankhurst-y, and by that I mean committing to making a difference in however small a way. I'm studying law in my first year at Cambridge and am interested in working in human rights - perhaps focussing on criminal law and sexual assault or looking to something more internationally focussed.
Have you ever felt any pressure to follow in the footsteps of previous generations of Pankhursts?
H: I've never felt pressure to go down a certain path - but I have always understood the importance of the issues, which is why I've chosen my own path - with a focus on international issues. Equally I never pressurised the children into following a certain path.
The legacy has never been a burden, but more of a privilege.
L: I would never reject the name or the legacy. I will never give up the name of 'Pankhurst', even when I get married - just like my mother and great-grandmothers.
Join Helen, her daughter Laura and the Olympic suffragettes on International Women's Dayhere
Sign up for the wider Walk In Her shoes campaign, walking 10,000 steps a day for a week in March: here