"For those of you expecting Harry Styles, I apologise and no, I'm not going to sing."
Prince Harry won rapturous applause when he appeared in front of more than 12,000 children and volunteers at Britain's first We Day event at Wembley Arena on Friday - and they didn't care he wasn't the One Direction star.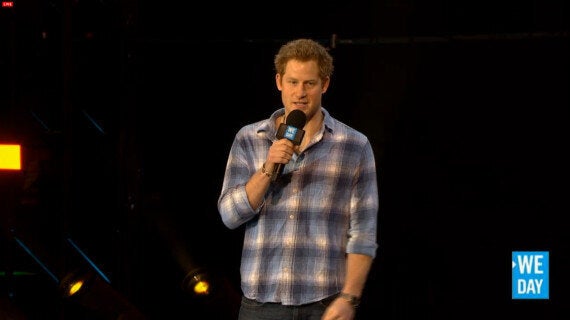 Prince Harry told the Wembley Arena audience it was 'cool' to help others
The Royal was one of the star attractions at the event organised by Canadian charity, Free The Children, which aims to inspire and empower children to make a difference in the world.
Harry admitted to some nerves as he spoke to the huge audience but told them how their efforts were making a difference.
"Everyone one of you has done something amazing to be here," Harry said, adding: "Your actions have, and will, shape our futures.
"We can inspire each other and should ask others to do the same."
Harry was keen to stress that the young activists did not only have to focus on work abroad, but that there was much work to do in their local communities where many children are living with domestic abuse, violence or addiction.
"This is robbing children of their childhood," he said, adding that "the biggest impact you can have is in your community. It doesn't cost a thing, just a little bit of your time.
"Every one of you here has inspired others, please don't stop.
"Some people don't think it's cool to help others. Personally, I think it's the coolest thing in the world.