A presenter at the Kremlin funded TV station Russia Today has defended her decision to quit her job during a live broadcast, saying she refused to be a "tool for propaganda".
Liz Wahl, an anchor on Russia Today, dramatically quit live on air on Wednesday in protest at the network's "whitewashing the actions of Putin".
The resignation came after months of turmoil in Ukraine and recent Russian intervention in Crimea.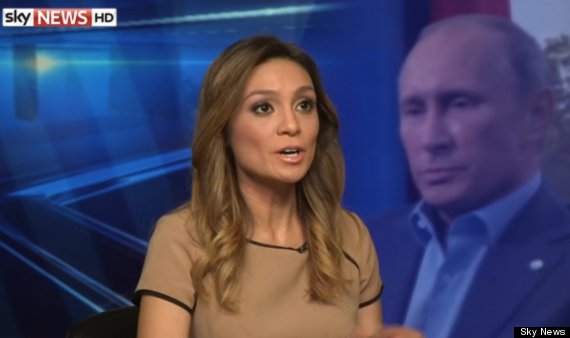 Wahl's sensational protest followed Tuesday's equally spectacular denunciation of Russia's recent military actions in Crimea by RT host Abby Martin who went off message by saying she "cannot stress enough" how strongly she feels about Russia's invasion of Crimea.
Russia Today's Most WFT Moments
Speaking to Sky News, Ms Wahl said the TV channel's reporting of the crisis had been dishonest, and that she chose to take a stand.
"It was kind of spontaneous. I'd decided on that day that for me, in my mind, a red line had been drawn," she said.
"Covering this crisis in Crimea, I've seen censorship there and really RT being used as a propaganda tool to promote the Putin world view.
"When they offered me the job they certainly didn't sell it in a way that I would be Putin's mouthpiece. But as this crisis escalates, I see that this is what it is."
She told Sky she was nervous about resigning live on air.
"(But) I knew that I had to do it ... Eventually, you have to draw a red line."
Russia Today has accused the presenter of a "self-promotional stunt".