A Wolves fan who received a club shirt with an upside down logo could have no complaints after the club's amusing response to his grievance.
Richard Gough was so dismayed his replica arrived with an inexplicable design error he contacted the club on Twitter to vent his feelings about the mistake.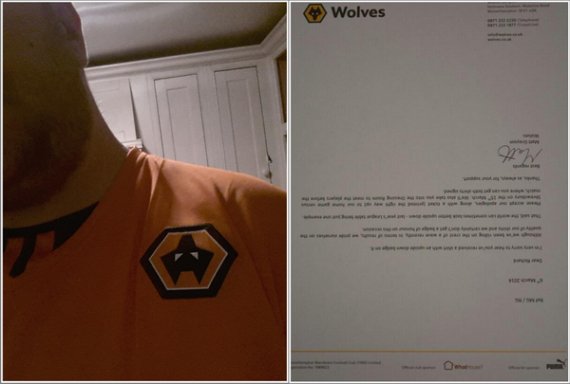 Richard Gough received an upside down badge - and letter
And the club responded yesterday with an apologetic letter, that was amusingly printed upside down.
@richard_j_gough Please accept our apologies and see attached letter..... http://t.co/G0ExlD7RYY

— Wolves (@OfficialWolves) March 6, 2014
Gough tweeted on Wednesday: "my new shirt just delivered.....can you see the error? Is this why theyre 12quid at moment? S***e."
Wolves' wittiness extended to the wording of the letter, too.
"Although we've been riding the crest of a wave recently, in terms of results, we pride ourselves on the quality of our shirts and we certainly don't get a badge of honour on this occasion," the letter read.
"That said, the world can sometimes look better upside down - last year's League table being just one example....
"Please accept our apologies, along with a ticket."