Amy Winehouse's husband used to swallow drugs to smuggle to her, according to his mother.
Georgette Civil has revealed that she discovered her son, Blake Fielder-Civil, who married the pop star in Miami in 2007, swallowing drugs - still wrapped in tin foil - to take to Amy when she was working in Paris.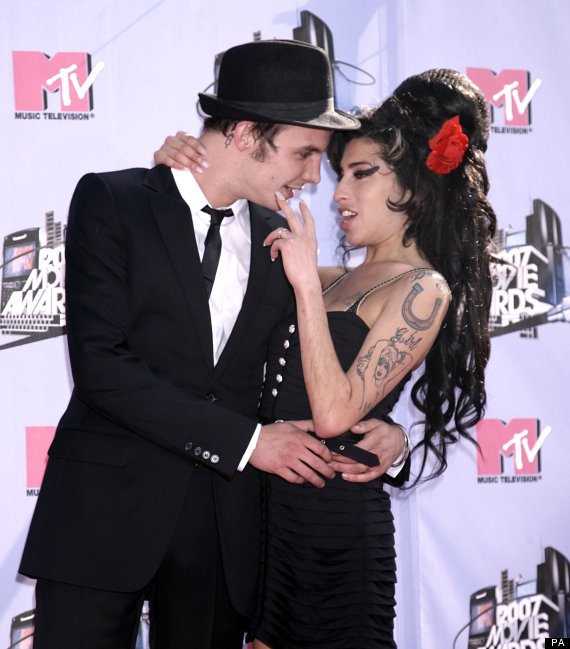 Blake Fielder-Civil and Amy Winehouse - one of pop culture's most toxic relationships
Georgette tells the Sun, "He was gagging and choking and I was crying and begging him to stop, but he was travelling to Paris to see Amy — the drugs were for her."
Georgette Civil has also spoken of her joy at meeting Amy for the first time, but how this turned to horror as she gradually realised the extent of her son and his wife's addiction to heroin.
She says, "When I visited the couple in London, I deliberately ignored the signs of drug-taking.
"One day, Amy invited me to hotel where she and Blake were staying.
"He sat at the table and said, 'Mum, I have a dependence and need help. There's been times I've spent £600 a day on heroin.'
"I took him in my arms and said, 'You are talking nonsense.' It was his only cry for help — but I wasn't strong enough to face the truth.
"He and Amy fed their addictions off each other — now she's dead and unless Blake does something, he'll die too."
Amy and Blake were eventually divorced in 2009. Amy died of alcohol poisoning in July 2011.
LIKE US ON FACEBOOK | FOLLOW US ON TWITTER