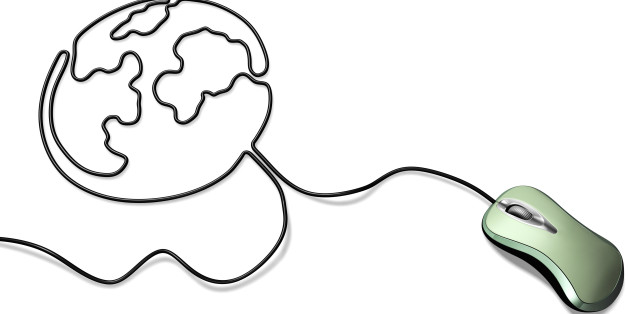 Atomic Imagery via Getty Images
It seems such a modern invention but the World Wide Web can trace its foundation back to before the fall of the Berlin Wall and the end of the Cold War.
1989
March 12: Tim Berners-Lee, a British scientist working at CERN in Switzerland, submits a proposal for a "distributed information system" to allow researchers to deal with huge amounts of information generated by complex physics experiments. This is the genesis of the World Wide Web - spelt as three words.
1990
December 20: The world's first website goes live at Info.cern.ch. The first web page is http://info.cern.ch/hypertext/WWW/TheProject.html
1991
August 6: The world wide web is launched publicly as Berners-Lee publishes details of the project on the internet.
1992
March: Pipex introduces dial-up internet connection to the UK
1993
April 30: Cern releases the World Wide Web source code and announces it will be available free of charge. It also releases a basic browser along with a library of code. By the end of the year there are more than 500 web servers, and the web accounts for 1% of internet traffic.
1994
May 25 - 27: First International World-Wide Web conference, held at CERN. It is hailed as the "Woodstock of the web".
December: By the end of the year there are 10,000 servers, 2,000 of them commercial. There are 10 million users, with traffic, according to CERN, equivalent to shipping the collected works of Shakespeare every second.
1995
July 16: Jeff Bezos launches Amazon.com as an online bookshop from computers in his garage in Seattle, Washington. It is now the world's largest online retailer.
August 16: Microsoft launches first version of its Internet Explorer web browser, which would come to dominate the market as part of its Windows platform.
1997
September 15: Google.com is registered as a web domain by Larry Page and Sergey Brin. Today Google Inc is the second largest company in the United States, with a market value of around 395 billion dollars £236 billion), only surpassed by Apple (465 billion dollars £278 billion).
2000
January: The DotCom Boom reaches its peak. The previous few years had seen a rush to invest in online firms, from retail to internet service providers (ISPs). Share prices soared. It culminated in ISP AOL buying traditional media company Time Warner for almost $200 billion.
March: DotCom Crash - the bubble bursts because few of the firms that were invested in made any money. Investors lose millions. By October 2002, exacerbated by the effect of the 9/11 terrorist attacks, the technology-focused Nasdaq stock index had fallen by 78%.
March: Virgin introduces high-speed broadband internet connections to the UK. By 2007 more than half of UK homes had it, according to Ofcom figures.
2004
February: Harvard psychology student Mark Zuckerberg launches Facebook
with his college roommates to connect students at the university. It was rolled out to the general public in 2006 and as of January 2014 it has about 1.2 billion monthly users. It floated on the Nasdaq stock exchange in October.
2005
November: A new video-hosting website called YouTube is launched. Taking advantage of increasing internet connection speeds it allows users to upload their own under-generated content. Today, according to the company, a billion people watch more than six billion hours of video in 61 languages every month, and 100 hours of footage is uploaded every minute.
2006
March: Twitter Inc is created by Jack Dorsey, Evan Williams, Biz Stone and Noah Glass as "a text message service that allowed users to quickly communicate with a small group". The first tweet is sent by @Jack on March 21.
Today it is a social media giant with almost 650 million active users around the world.
2007
January 9: Apple launch the iPhone. It revolutionises mobile web-surfing with a handset that features a large touchscreen and a mobile-friendly version of its Safari web browser, and spawns the world of apps.
Story continues after slideshow...
2008
July 10: Apple launches the App Store.
2010
April 23: Apple launches the iPad, the world's first tablet, taking the web off in yet another mobile direction.
October: Picture editing and sharing website Instagram launched. Less than two years later, in April 2012, it was sold to Facebook for 1 billion dollars (£600 million).
2014
February 20: Facebook pays 19 billion US dollars (£12 billion) for mobile phone messaging system WhatsApp, which was created in 2009 by two former Yahoo! employees and now has more than 450 million active users.