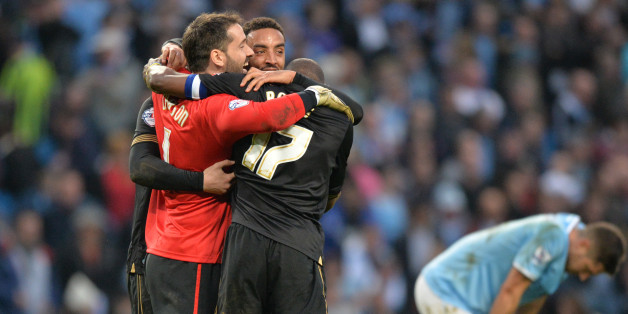 PAUL ELLIS via Getty Images
Uwe Rösler hailed Wigan's FA Cup quarter-final victory over Manchester City as the greatest of his managerial career.
The German guided the competition's holders to a fourth Wembley appearance in 12 months by securing a remarkable 2-1 victory at the home of the club where he is still revered from his playing days.
Rösler values the job he did helping Brentford recover from the dramatic heartache they suffered by losing promotion to Doncaster in the dying embers of last season's campaign, but Sunday's improbable victory at the Etihad Stadium - a repeat of Wigan's FA Cup final win last May - was the sweetest success yet for Rösler.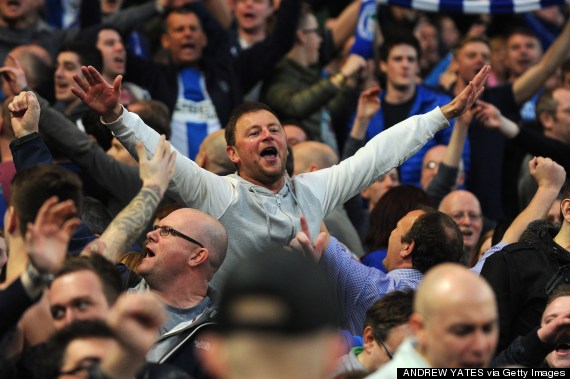 Wigan fans are heading back to Wembley for a fourth time within a year
"Since I've been in the UK I've had very good results with Brentford, in building up a club who will now win promotion and overcoming absolutely difficult scenarios like the Doncaster game of last year then coming through the play-offs," he said.
"A lot of people said the team was dead and buried and then mentally we came through to Wembley.
"I think coming here against one of the best teams in the world and to win, and the way we won - we've not won by just parking the bus and being lucky, we played very good football over long periods. Obviously that is my biggest achievement as a manager."
Rösler enjoys cult-hero status among the City fraternity and was afforded a rousing reception from home and away fans alike before kick-off, a gratuity which touched him.
"This club has been very respectful to me, the reception I got was tremendous," added Rösler.
"I also felt I was very respectful in terms of I didn't celebrate after the win - I shook hands and walked in. Everybody knows the bond and the ties I've had to the club and that will never change."