A new app has been launched to improve our health by helping us cut the hidden salt inside shoppers' food baskets.
The SaltSwitch app allows users to scan the barcodes of food products and provides details of any less salty, healthier alternatives, campaign group Consensus Action on Salt and Health (CASH) said.
The group said it wants to highlight "the shocking and unnecessary levels of salt hidden inside our weekly shopping baskets....in a bid to help UK consumers reduce their risk of heart attack and stroke".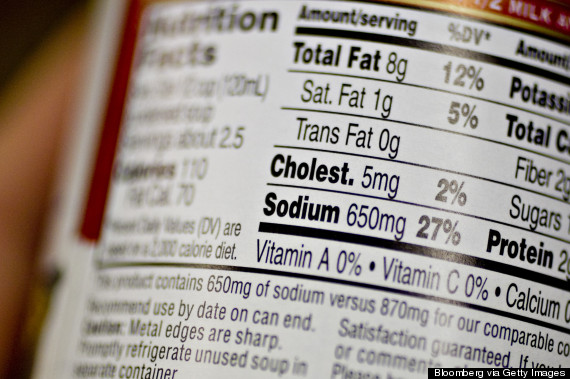 The free app allows users to scan the barcode of nearly 90,000 packaged foods sold across major UK supermarkets using their smartphone camera. They receive instant colour-coded nutritional information about the product along with details of any similar products with less salt content.
CASH campaign director Katharine Jenner said: "SaltSwitch is not about telling people to stop or avoid certain foods but rather highlighting differences in products. This makes it easier than ever to switch to less salty, and therefore healthier, food choices in your weekly shop.
"Salt puts up our blood pressure, and as a result, thousands of people die unnecessarily each year from strokes, heart attacks and heart failure."
Story continues below the slideshow:
Nutritionist Sonia Pombo said: "It is hard to know how much salt we are really eating. Identical looking products can contain hugely different amounts of salt.
"Looking at the labels can help you make healthier choices for you and your family. SaltSwitch uses the new voluntary front of pack labelling scheme which is being rolled out this year so it is a great tool to use to get to grips with what the labels mean."
The app has been been funded by the George Institute for Global Health and is being launched to coincide with National Salt Awareness Week.
See Also:

24 Amazing Food Swaps That Instantly Cut Calories

61% Of Brits Throw Out Fresh Groceries Every Week - But At Least We're Not As Bad As France And Germany
The average daily salt intake in the UK is 8.1 grams - higher than the recommended maximum of 6g per day.
CASH said the weekly food shop of a typical student aged 18 to 22 could contain 58g of salt, according to its analysis of popular foods among different age groups from the National Diet and Nutrition Survey (NDNS).
Meanwhile, the food basket of a mother in her 30s can contain up to 64g of salt - the equivalent of 128 bags of crisps, CASH claimed.
LIKE HUFFPOST UK LIFESTYLE ON FACEBOOK | FOLLOW US ON TWITTER
Switching food products to lower salt options could cut their salt intake by 62% and 72% per week respectively, the group said.
A high salt diet is linked to a number of serious health conditions such as stomach cancer, osteoporosis and kidney disease.
According to CASH, the Department of Health estimates that reducing salt intakes by just 1g would save 4,147 preventable deaths and £288 million to the NHS every year.