It's not every day you get the chance to interview a bona-fide pop icon, so we were just ever so slightly giddy at the prospect of a private audience with Ms. Kylie Minogue aSs she releases her (amazing) twelfth studio album, 'Kiss Me Once'.
So off we went to swanky London hotel Blakes to sit down for a good old chinwag with the pop princess to talk about her new album, forthcoming tour, how she's managed to stay sane after 25 years in the biz and what the prospects of a duet with Madonna are.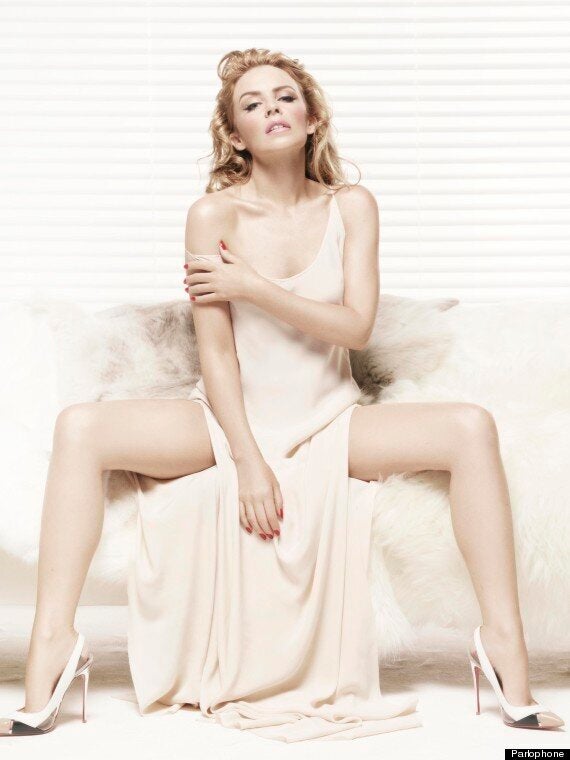 You're about to release your 12th studio album, 'Kiss Me Once'. Do you still get as excited about releasing new material?
Hell yeah! I actually just saw the real, actual 3D CD and vinyl today and I screamed! I've been working really closely with the graphic designers over the font and this and that, and actually seeing it is very exciting.
What was it like working with fellow Aussie Sia on 'Kiss Me Once'?
She's gorgeous. Her talent is crazy, out of this world and undeniable. But on top of that she's just lovely and funny. We had a couple of moments when we were literally crying with laughter, rolling around on the floor. I don't quite know how we got there but the studio is a weird environment and I think we just kinda went nuts. I have such respect for her because she does things her way. She's fresh and charming and deep and talented and lovely, and the fact that she's been executive producer on this album… I was an uber fan and now I'm her friend, so…
Did you record a lot of tracks for this album and how did you select the songs that made the cut?
Yes, I did record a lot of tracks. I don't know if there was any other way around it. I'll try just about anything if other people think it might work even if my gut is telling me: 'I'm not sure, but let's try it anyway.' But yeah, I recorded a tonne of songs. I feel like I've taken the scenic route to get to the destination but at least I explored everything on the way and I learnt a lot working with different people... trying a different delivery and different sounds. But we got there. There were definitely a few points where I thought we're never gonna get there, thinking it's all too hard, thinking 'what am I doing?, I've lost track, I've lost confidence.' And Sia came on board about half way through the process and it was right on time because I already couldn't really see the wood for the trees. I had a lot of songs so she was able to help me get some clarity with those and be my buddy. I knew she was there for me, which was great.
Do you think any of those songs that didn't make it will surface at any point in the future?
There are some that I hope have an outlet, others it's probably best they stay in the shadows never to be heard or seen. But yes, always when it comes to choosing the final tracklisting - and maybe more so on this album because there were so many to choose from. At one point, Sia said, 'well you have three albums.' She said you have the pop album, the more dancey urban album - if you can relate me to urban at all - and then there was the more lefty indie album so we had to pull the right tracks from all of that.
Do you have a favourite song on the album or does it change on a day-to-day basis?
It does change on a daily basis but the one I'm absolutely loving in rehearsals with the band is 'Kiss Me Once'. It's not the most obvious one on first listen compared with other songs on the album that are more shiny, but 'Kiss Me Once', we'd literally go through and rehearse everything, having loads of fun with 'Les Sex', 'Into the Blue' and 'Sexersize' but by the time we got to rehearsing 'Kiss Me Once' we were all so happy.
People often talk about the 'Kylie sound'. What do you think that is?
I really wish I knew what it was so we wouldn't have to go through so much drama to get to a finished album! A song like 'Into The Blue' is a Kylie song. It's what everyone tells me and it's what I feel myself. There's some melancholy in the lyrics but ultimately it's hopeful, even euphoric at some points. It's sparkling! But then I think you could also say a song like 'Slow', which is a real meeting of pop and something more independent, I would also class that as a Kylie song… just maybe second to the first description.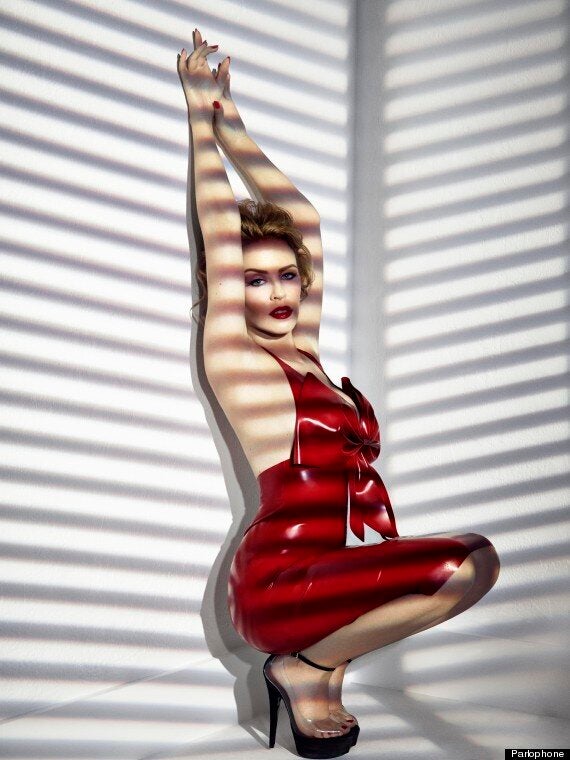 Jake Shears said recently that he had a whole album's worth of Kylie material. Do you think that will ever see the light of day?
He gets me in so much trouble! But who knows? If it gets leaked I'll know the first person to blame!
Over the years you've worked with some great artists and songwriters. Is there anyone left on your wishlist?
Of course! That would be incredible! It's like maybe the world would stop mid orbit! Yeah, it would be incredible. I don't know if it would ever happen. Maybe it's something that will live in our imagination.
Lady Gaga is a fan too. Would you like to do something with her?
Again, I'd love that to happen. I don't get to collaborate with many women so it would be amazing.
You should do a three-pronged attack!
(Laughs) I know we don't have much time so we should do it in one fell swoop! But seriously, there are so many people… Frank Ocean. I was listening to him a lot last year and you just think that would be so cool because it would just be so unexpected.
Speaking of collaborations, you recorded your next single, 'Beautiful', with Enrique Iglesias. How did that duet come about?
Sadly we didn't record together. And of all the people around, Enrique Iglesias is not the person I thought would come into my world at this point. Sorry I just referenced myself! But the way it happened was that the song was sent to me explaining to me that it could be a duet. And I heard the song and I actually cried when I heard it as it's so moving. I'd had a frantic day, I remember I was in Paris… and at the end of the day the email came through with that song and it just made everything slow down and I really had visions of the song. It's very moving and I really wanted to be on it. Definitely. I was a little fearful that he might change his mind!
Have you made the video for it yet?
No. But I hope we'll be doing it together! I really hope so. I met Enrique many years ago but we've been on the phone and on email, so we're in touch with each other but we didn't manage to record together.
We've all seen how fame has affected so many young stars like Britney and Miley. How do you think you've stayed so sane after more than 25 years in the business?
I have to say it's not easy. It really can start to take its toll. I go back to my safety zone which is my family, so I go home to Australia and try to regroup. It's a very strange position to be in and there's not many people who can really understand and really relate to it. A lot of people can be understanding, which is fantastic but it is very different not being in the hot seat. So if there are people going off the rails, it's not fun to see for any of us, we don't want that to happen, but I guess you have to go through things your own way, especially growing up in public. It's challenging.
What about your early years? Is it a blur to you or can you remember any of it?
Sometimes my sartorial memory is really good! I'm like, 'Is that one where I was wearing that thing? Yep got it!' But then other things… yeah, they're a bit of a blur.
Do you ever take a sneaky peek at your old videos on YouTube?
I wouldn't go looking for them but sometimes I have to look at something to approve that will be right next to something else so sometimes I'm a bit embarrassed as it might not have been my finest moment! But mostly I get really nostalgic and sometimes quite emotional about it because I see this young girl and there's a longing for us as children or young adults, so I have that. And I can look at every video and remember so much about that moment.
So the new tour… is it definitely going to happen this year?
We're going to streamline, go a little minimalist, which is a reaction to the Aphrodite tour which was bells, whistles and… water! Note to self, never tour with water again even though it was amazing. Each night when that would happen I felt like there might as well have been unicorns around because it was such an amazing, euphoric moment but we did that and it was perfect for Aphrodite so I want to go more like 'Fever' era, just bring things back a little. It will still be a big show but just more streamlined is all I can say without going too much into it. That's the best description at this point.
So how do you prepare for such huge performances and world tours? How do you stay energised?
Errrrm, coffee, adrenaline, excitement, the fact that you have no option. You have to keep going. But seriously, it's funny because when I first started touring I literally had no clue what I was doing. I was so scared. I wasn't used to singing live - it wasn't my thing, you know? I was more comfortable dancing, jumping around non-stop… and over time it's got to where I love to stand and sing the songs.
And I've reached a point where it's my favourite thing to do. I went from being really uncomfortable and absolutely being beside myself every night to so looking forward to touring. Of course it's difficult and it's challenging and it's gruelling and I spend pretty much the entire time on tour at various stages of anxiety. I'm worried about everything except the two hours I'm performing because I learnt a few years ago that things do go wrong but at least if whatever happens, happens in the moment on stage, you deal with it instantly. There's no time to think about it. Where as the other 22 hours of the day - all the whats, ifs, maybes… that's exhausting. The best part is going out and doing it and feeding off the audience. And I get to do it again which is amazing.
Kylie's new single 'Into the Blue' is out now. The album 'Kiss Me Once' is released on 17 March on Parlophone kylie.com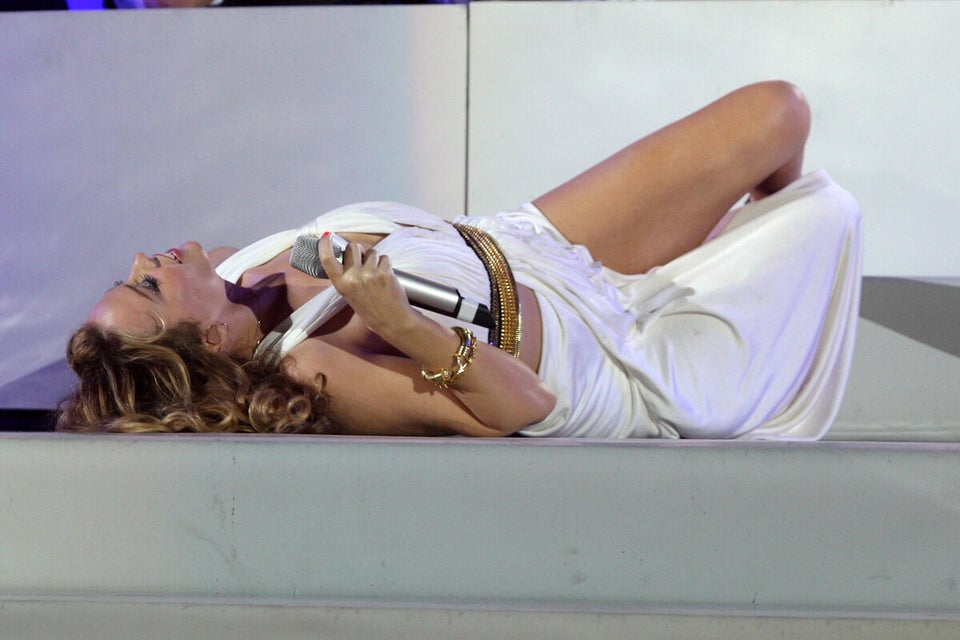 Kylie Minogue's 100 Sexiest Pics