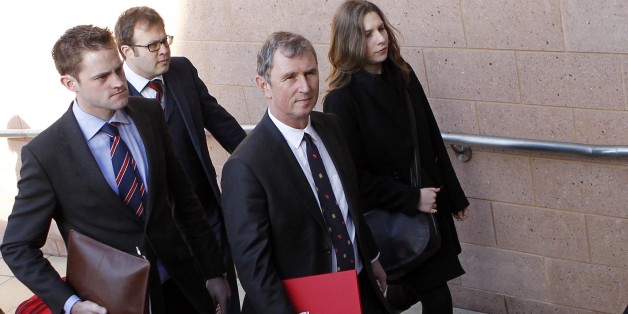 Peter Byrne/PA Wire
A Westminster worker thought "Oh God! He's doing it to me now!" after "drunk" MP Nigel Evans put his hand down the back of his trousers in a pub, a court heard.
The openly gay man, said the MP, accused of a series of sex offences, had a "reputation" and at the time it was an "open secret" in Westminster that the politician was gay.
The witness told Preston Crown Court he dismissed the incident as "just Nigel being drunken Nigel".
Evans used his "powerful" political influence to sexually take advantage of seven young men, it is alleged.
Evans, 56, the former deputy speaker of the House of Commons faces nine charges in all, dating from 2002 to April 1 last year. The MP for Ribble Valley, in Lancashire, denies two counts of indecent assault, six of sexual assault and one of rape.
Evans, who had the "ability to make or break" careers, assaulted alleged victims in his home, House of Commons bars and his office in the Palace of Westminster, it is claimed.
The first complainant today told the jury while out with friends one night in 2002, Evans, then the shadow secretary of state for Wales, indecently assaulted him by putting his hand down his trousers while drinking at a pub called the Sanctuary on Greek Street in Soho.
"It was just a normal going out having fun and I thought, 'Oh God, he's doing it to me now'," the witness said.
"He had definitely been drinking, he was acting very drunk and I do remember he seemed to sober up quite quickly."
Mark Heywood QC, prosecuting, asked when he became first aware of something untoward.
"That some fingers had gone down my trousers. He was on one side of me...'Oh!' Because he had a reputation."
"What did you do?" Mr Heywood said.
"I walked away rather than make a scene," the witness replied.
"It came out of my trousers as I walked away. I did not want him to think I was interested."
Mr Heywood continued: "Did you know of his sexual orientation?"
"It was an open secret in Westminster," the witness said.
"What was yours?" Mr Heywood said.
"Oh, I have been openly gay since I was 17," he replied.
Mr Heywood said: "Before the hand entered your trousers, did he say anything?"
The witness replied: "No. He drunkenly put his hand down my trousers. It was just Nigel being drunken Nigel. No, just did it.
"I was annoyed by it. I thought if I don't walk away I'm going to hit him."
Evans then put his hand down his trousers again and the so the witness, then aged 27, told a female friend with him: "I'm going to punch him."
He added: "She said, 'You can't do that - the shadow secretary of state for Wales'."
The MP was arrested on May 4 last year after allegedly raping another young man and eventually charged with nine sex offences last September.
He denies all the allegations.