One adult dies every three minutes from colorectal cancer (also known as bowel cancer) in Europe, making it the continent's second biggest cancer killer, according to gastroenterology experts United European Gastroenterology (UEG).
And the figures are expected to rise over the next few years. By 2020 colorectal cancer is estimated to claim the lives of 214,675 and affect 502,000 Europeans each year, claims UEG.
As part of Colorectal Cancer Awareness Month, UEG is launching a new awareness campaign, 'Screening Saves Lives', urging all European men and women over 50 to talk to a healthcare professional, familiarise with symptoms and undertake screening for colorectal cancer.
While bowel cancer may be lethal in its advanced stages, early detection can result in a 90-95% survival rate.
We spoke to colorectal cancer specialist Professor Jaroslaw Regula to get some key signs to look out for.
For more information on the effect of colorectal cancer in Europe, see the infographic below...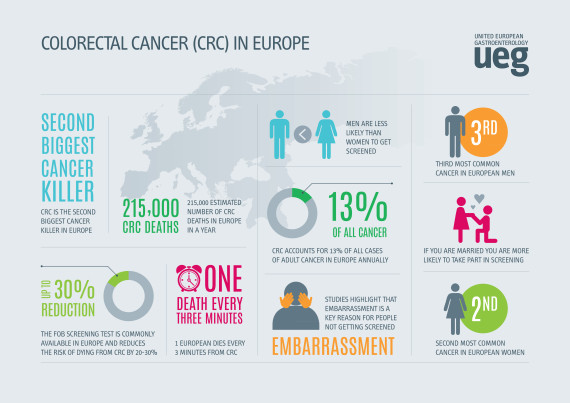 See Also:

Bowel Cancer Diagnosis Delayed Until Advanced Stage, Patients Fail To Recognise Symptoms And Feel Embarrassment

One In 10 'Have Experienced Potential Signs Of Cancer' Survey Finds