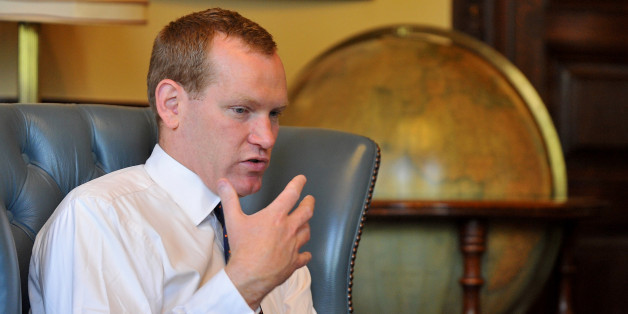 Clive Gee/PA Archive
A former Lib Dem minister has criticised Nick Clegg's flagship policy of pushing to increase the amount of money people can earn before the pay income tax.
Jeremy Browne, who served as a coalition Foreign Office minister and Home Office minister, said the Lib Dems should be careful not to message to voters there was "money to splash around" given the size of the deficit.
"I think the government needs to make sure it explains the necessity of deficit reduction with absolute clarity," he said on Wednesday. "The headline delivery point will be arrival of the £10,000 exemption from next month."
"I wonder then where the government will go," he said. "The Lib Dems are very keen to make sure everyone understands this is a policy stamped with a Lib Dem ownership mark, but the Tories are keen to usurp the ownership of that."
"As a result there is a tendency within government, between the two governing parties, to keep knocking it up another £500 every Budget just to keep try and stay ahead of the race."
Browne, who was unexpectedly reshuffled out of government by Clegg in October last year, told a pre-Budget event hosted by Policy Exchange that while he supported the £10,000 threshold, raising it higher would "cost a large amount of money".
"Maybe the government could be better placed to realise how much money has already been given away through this policy, rather than working on the assumption we need to keep giving away large amounts before people will start to notice," he said.
From April, people will not pay tax on the first £10,000 that they earn. The policy is a key Lib Dem commitment, although the Conservatives have also tried to claim credit.
Clegg has said he would like to see the income tax threshold raised to £10,500, worth £100 a year to basic-rate taxpayers.
The deputy prime minister has said his ambition is to eventually raise the rate even further so no one pays any tax on the equivalent of the minimum wage, which would work out at a threshold of around £12,500.
And Lib Dem chief secretary to the Treasury Danny Alexander said it would be a "top priority" of the party to "raise the personal allowance dramatically" in the next parliament - suggesting it would be a red line for the Lib Dems in any coalition negotiation.
Story continues below video
Browne said he was "slightly unnerved" by the "Dutch auction" at the last Lib Dem and Conservative conferences where the two parties traded off policies.
"The Conservatives promised extra money for a marriage tax break and the Lib Dems promised to spend extra money on giving free school meals to all infant school aged children," he said.
"The message I find that sends is there is money to splash around and I think it's a difficult message to send at the same time when you told the electorate that educational maintenance allowance or child benefit for taxpayers above a certain threshold is unaffordable."
He added: "We still have a big deficit by any standard, just because it's less colossal than before doesn't mean its not still big."
Browne said there was a "tendency of all parties to start getting ready to do the giveaways before there is anything to actually give away."
George Osborne is due to deliver his Budget next Wednesday and the chancellor is likely to use the opportunity to drive home the message that his economic plan is working.
Browne said Osborne should "avoid micro-meddling paternalism" in his Budget and focus on not "losing sight of the big picture".
"The idea the big issue facing Britain at the start of the Asian century is whether your gas bill goes down by 50p a quarter is just laughable," he said.
"This is the sort of micro-defeatist politics. We talk about living wages rather than how we can get our economy competitive and makes sure young people have an high aptitude in maths to compete a in a global market."