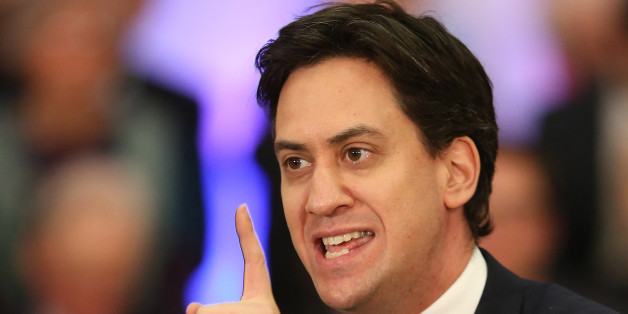 Peter Macdiarmid via Getty Images
Here are the five things you need to know on Wednesday 12 March 2014...
1) ED (ALMOST) RULES OUT EU REFERENDUM
Ever since David Cameron buckled to pressure from Ukip, his own backbenchers and, of course, the eurosceptic, right-wing press, and promised an in/out referendum on Britain's membership of the EU in 2017, Ed Miliband and Labour have been under pressure to pledge a plebiscite on the issue, too. (In fact, Miliband's own shadow ministers, people like Jon Cruddas and Ed Balls, were also urging him to rule it in, not out.)
Writing an op-ed in today's FT, however, Miliband seems to put the issue to bed:
"Labour's position on Europe... is clear and principled: we strongly believe Britain's future is in the EU. And my priorities for government after the next election are very different from those of the Conservatives. Labour will focus on dealing with the cost of living crisis by building a better economy so that people can look forward to a better future for their children. An arbitrary timetable for a referendum on leaving Europe would damage our ability to deliver on these priorities."
The Labour leader says an in/out referendum is "possible", if there is a further transfer of powers to the EU in the next parliament, but "unlikely". He writes that he will announce in a speech today "the next Labour government will legislate for a new lock: there would be no transfer of powers from the UK to the EU without a referendum on our continued membership of the EU".
But there is still some confusion in the papers. In contrast to the FT's front page headline, "Miliband rules out early EU poll", the Mirror goes with, "We will give EU an in/out vote". Huh?
The point is, he hasn't ruled it out completely, leaving a window open if there's a future treaty change, but he's pretty much ruled it out. It is possible, but unlikely. He wants to focus on the cost of living.
It's a wise move by Miliband, as it allows him to avoid a referendum which would take up the first half of his first term as prime minister, when he should be focusing on the economy, and it's a referendum which - let's face it - he'd probably lose. It's also not an issue which voters care about - despite all the noise from the right-wing press.
Miliband's decision won praise from the former business secretary and Tony Blair loyalist, Lord Mandelson, who has criticised him in the past. Mandelson told the Today programme that Miliband had "shown leadership and guts on a major issue".
As the FT's Tory-supporting columnist, and George Osborne biographer, Janan Ganesh rightly tweeted last night: "Miliband decision is a no-brainer. What mug becomes PM only to spend 2 years mired in EU stuff, then hold referendum as unpopular incumbent?"
Indeed...
2) IS SHAPPS FOR THE CHOP?
My colleague Ned Simons and I have this exclusive report on the forthcoming Tory reshuffle, expected after May's European elections:
"David Cameron is said to be considering making the job of immigration minister a Cabinet-level position and handing it to current party chairman Grant Shapps. A senior Conservative Party source told The Huffington Post UK that the move could be made at the next reshuffle, expected at the end of May in the wake of the European parliamentary elections. The change would allow Downing Street to stress the importance the prime minister places on addressing voters' concerns about immigration... The appointment could be seen as a demotion for Shapps, who was only made party chairman in September 2012 when he replaced Baroness Warsi... The senior Tory source told HuffPost UK that Conservative business minister and former deputy party chairman Michael Fallon is being lined up for Shapps' job at CCHQ."
3) RIP BOB
The political and media worlds were left stunned on Tuesday morning when it emerged that Bob Crow, the outspoken and combative boss of the RMT tube workers' union, had died of a heart attack, at the age of just 52.
The Mirror headline is: "Death of a working-class hero." The two best quotes in response to his death, in my view, came from his arch-rival, the mayor Boris Johnson, and Johnson's predecessor in the post, Ken Livingstone. Johnson said: "Bob Crow was a fighter and a man of character. Whatever our political differences, and there were many, this is tragic news."
Livingstone pointed out: "The only working-class people who still have wellpaid jobs in London are his members."
You can read a list of Crow's most memorable quotes here; and check out 7 things you didn't know about the late RMT boss here - including the fact that he had a dog named 'Castro' and a brother who was a stockbroker.
Meanwhile, the Telegraph reports:
"Transport chiefs fear that "radical" members of the RMT will now attempt to fill the vacuum left by Bob Crow. Senior sources are concerned that a militant member of the transport union will take over from Mr Crow, raising the prospect of more strikes on the London Underground. Among the potential replacements is Steve Hedley, a controversial figure who was arrested in 2010 for allegedly attempting to stop Tube workers crossing a picket line... Another source said: 'Bob Crow was essentially a moderate in RMT terms.'"
BECAUSE YOU'VE READ THIS FAR...
Watch this very odd but very funny interview with Barack Obama on 'Between Two Ferns'. It's bizarre.
4) PAYDAY LENDERS 'IN THE SPOTLIGHT'
Finally! From the Guardian:
"Payday lenders' treatment of struggling borrowers is to come under the spotlight in April, when the Financial Conduct Authority takes over regulation of the sector on 1 April. The FCA said it planned to kick off an in-depth review of the way high-cost short-term lenders collect debts and deal with people who have fallen into arrears on their loans in one of its first actions in its new role. More than a third of payday loans are repaid late or not at all, the equivalent of around 3.5m a year. Six in 10 complaints made about payday lenders are about how debts are collected. The watchdog said while new rules it had already announced should reduce problems, for those who were struggling 'there will now be a discussion about the different options available rather than piling on more pressure or simply calling in the debt collectors'."
5) TORY MINISTER'S 'TAX DODGE'?
Defence Secretary Philip Hammond says he has done nothing wrong but that doesn't stop the Mirror splashing on his alleged 'tax dodge':
"He is already one of the wealthiest members of the Cabinet with an estimated £8million fortune on top of the £134,565 a year salary he gets as a minister and MP. But the Mirror can reveal that Defence Secretary Philip Hammond has also managed to save himself a few more bob - by making an expensive 'gift' to his wife Susan. He has avoided thousands of pounds in tax after transferring his share of a £600,000 buy-to-let property to Mrs Hammond almost two years ago. But when the Mirror questioned him about the large detached cottage in leafy Surrey the top Tory snapped: 'What has it got to do with you?' Asked if he signed it over to his wife to avoid paying tax, he replied, "Of course not", before being whisked off in his ministerial limousine."
PUBLIC OPINION WATCH
From the Sun/YouGov poll:
Labour 38
Conservatives 34
Ukip 12
Lib Dems 10
That would give Labour a majority of 44.
From the Guardian/ICM poll:
Labour 38
Conservatives 35
Lib Dems 12
Ukip 9
That would give Labour a majority of 30.
900 WORDS OR MORE
Mary Riddell, writing in the Telegraph, says: "Bob Crow leaves behind a union movement fighting for survival."
Nigel Farage, writing in the Independent, says: "Ukip funding is only an issue because the Establishment is running scared."
Roger Boyes, writing in the TImes, says: "The Foreign Secretary should have resigned when MPs rejected his Syrian policy."
Got something you want to share? Please send any stories/tips/quotes/pix/plugs/gossip to Mehdi Hasan (mehdi.hasan@huffingtonpost.com) or Ned Simons (ned.simons@huffingtonpost.com). You can also follow us on Twitter: @mehdirhasan, @nedsimons and @huffpostukpol