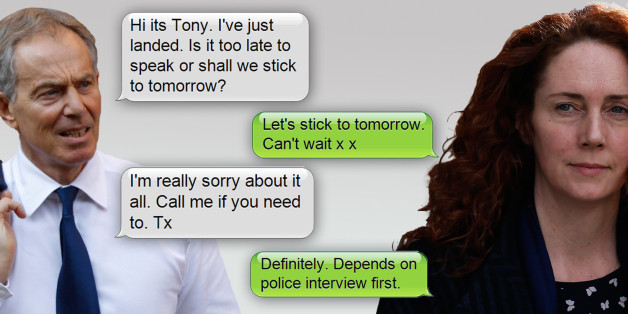 Rebekah Brooks texted Tony Blair that she was "feeling properly terrified" the day before a police interview, exchanging many texts with him in the days leading up to her arrest.
At the phone hacking trial at London's Old Bailey, prosecutor Andrew Edis QC read out the texts which appeared to be the ex-Prime Minister offering the former Sun editor advice about her forthcoming appearance in Parliament.
The pair were in almost daily contact, the texts show, and the pair signed off texts to each other with an kiss.
Texts between Tony Blair and Rebekah Brooks: part 1/2 pic.twitter.com/tHwRtexWjE

— lisa o'carroll (@lisaocarroll) March 12, 2014
The text exchange started on July 10 with Blair saying: "Hi its Tony. I've just landed. Is it too late to speak or should we stick with tomorrow?"
Brooks replied: "Let's stick with tomorrow" adding later "Can't wait xx".
They then went on to make arrangements for the call. Blair told Brooks he is in the Middle East, saying: "I'm really sorry about it all. Call me if you need to. Tx"
Earlier in the trial, the jury heard how Mr Blair offered in the phone call to be an unofficial adviser telling Brooks: "It will pass. Tough up."
A day later, the pair were texting again, with Blair asking Brooks to 'Call my hotel landing. Ask for room 610'.
The following day, July 12, another text came through to Brooks from Blair. 'I'm in the MidEast. Call me if you need to. Tx'.
On July 15, Brooks resigned as chief executive of News International. She received a text from Blair which said: "I'm really sorry about it all. Call me if you need to. Tx".
Then on July 16, Blair texted: "If you're still going to Parliament you should call me. I have experience of these things! Tx"
Brooks replied: "Definitely. Depends on the police interview first. I have Stephen Parkinson here today. I have never met him but people say he is good."
Blair replied: "He's excellent."
On the day of her arrest, Brooks texted Blair: "With Stephen now. We are both saying hello. x"
At 7.34am on July 16, Brooks told Blair she had an interview with police the next day.
She texted: "Feeling properly terrified! The police are behaving so badly."
Blair replied: "Everyone panics in these situations".
He later added: "I'm no use on police stuff but call me after that because I may be of use on Commons."
The trial has previously heard that Blair advised Brooks to launch a "Hutton-style" inquiry into the News of the World's 'phone hacking' six days before her arrest.
In the email, Brooks said the former prime minister told her to "tough up" and "keep strong". Blair also allegedly advocated sleeping pills for "clear heads".
Earlier on Wednesday, Brooks described her husband's attempt to hide embarrassing property from police as "impulsive", "ill thought-out" and a "really, really stupid thing to do".
In her 13th day in the witness box at the Old Bailey, the former News International chief executive was asked about her reaction when husband Charlie told her what he had done.
Earlier in the trial, the court heard Mr Brooks had stashed bags containing an assortment of items including a porn magazine, lesbian porn DVDs and two laptops behind bins in the underground car park at their Chelsea Harbour flat just before police searched it while his wife was being interviewed by police on July 17 2011.
He went back to retrieve the bags and discovered they were gone, having been picked up when the bins were emptied, the court has heard.
The court was told the operation involved moving property from their Oxfordshire home, taking it to Wapping and then hiding it in bags behind the bins.
Brooks said she vaguely recalled him talking about his novel in the car as they returned from a visit to her solicitors after her interview with police.
But she said at the time she was feeling sick and just wanted to get home to bed.
The jury was shown CCTV footage of them returning, and Mr Brooks going off apparently to look for the property and returning empty-handed.
Brooks said her husband stayed quiet then because "he was just trying to deal with it and not tell me until he had to".
She thought it was pretty stupid because of the "embarrassment factor", adding that he was "absolutely obsessive" about his novel. But she understood his motives even though it was unnecessary, she said.
Recalling their conversation later, she said: "He told me he had asked security to look after his belongings. "I thought it was an impulsive ill thought-out decision. I thought it was a really, really stupid thing to do."
Asked why "impulsive", she said: "I am maybe referring more to the personal stuff. I think it's evident he did not want police to find his stuff."
"You did not want police to get your stuff," Andrew Edis QC asked.
"That's not true. The police had all my stuff," she said.
Brooks, 45, and her 51-year-old husband, of Churchills, Oxfordshire, deny conspiring to pervert the course of justice.
She also denies conspiring to hack phones and conspiracy to commit misconduct in public office.