Steve Coogan and Rob Brydon will be following up their much-loved original Trip, with 'The Trip To Italy' coming to BBC2 in April.
The first series, showing Steve and Rob playing stylised versions of themselves, was a huge success when it was first broadcast in 2010, won a BAFTA, and was turned into a film for the US and Australian market.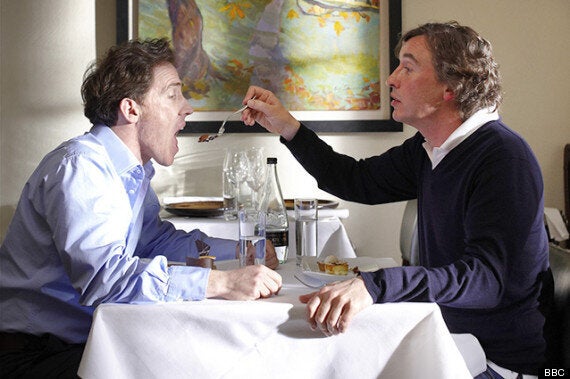 Steve Coogan and Rob Brydon enjoy another bromantic trip, this time to Italy
Audiences couldn't get enough of the deceptively simple idea of two middle-aged men, going on a tour of the North of England, staying at a series of high-end hotels, reviewing the cuisine and arguing about who can do the better Michael Caine impression...
Now, Rob and Steve are back, seemingly asked by the Observer newspaper to conduct another series of restaurant reviews in the idyllic setting of Piemonte, Liguria, Tuscany, Rome, Amalfi and finally in Capri. What on earth could they have to complain about?
In the director's chair will once again be Michael Winterbottom, who directed Steve Coogan in 'The Look of Love' and '24 Hour Party People'
This time around, it's Rob, happily married but tired of parental responsibility, who is seeking adventure, while Steve, who's been hard at work in LA, is concerned with spending time with his family. Along the way, there are all sorts of topics to be discussed, including the Romantic poets whose works were inspired by their time in Italy. Will it do the same for these two?
'A Trip to Italy' will debut on BBC2 in April. Here's a clip - and they're STILL talking about Michael Caine:
Popular in the Community