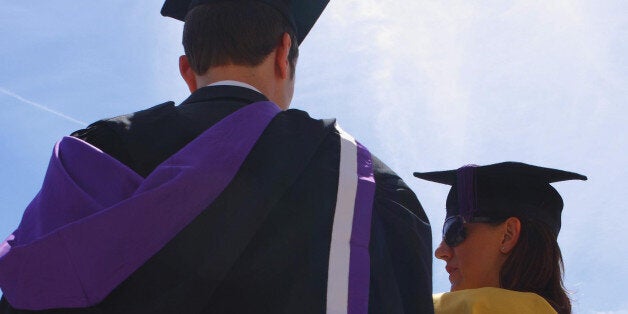 Students are socialising less and studying more, with a third abstaining from alcohol in order to save money in the face of £40,000 worth of debts, a survey has revealed.
The traditional UK student stereotype has changed, while "a time bomb may be ticking", a university vice-chancellor warned - thanks to the rise in tuition fees.
More students are focused on achieving their desired degree classification and are socialising less and working fewer hours in part-time jobs, the survey of over 140 universities and 2,000 students throughout the UK found.
The changes to university fees, and the government's decision to triple tuition fees to a maximum of £9,000, have contributed to making the decision to attend university an increasingly complex choice for UK students.
This is due to mounting financial pressures, changing attitudes towards university life and the value of education received, according to the results of the 2014 Sodexo University Lifestyle Survey.
Almost one in five students in the UK (17%) expect to take on debts in excess of £40,000 compared to 2% previously, while 58% expect at least £20,000 of debt.
Over a quarter (26%) of students are consulting their parents in making the choice to go to university - more than double the amount in 2012 (12%), the survey found.
But the amount of students who report being worried about their debt on graduation decreased by 10% in 10 years - from 14% in 2004 to 4% in 2014 - despite the rising levels of debt observed.
There has been a sharp increase in the level of student dissatisfaction with the value of their education, with over a quarter of students (28%) saying they did not think accruing so much debt was acceptable as a career investment, up by 10% in two years.
The higher investment has led the students of today to focus more on the final outcome - with a rising number choosing to go to university to improve their future employment opportunities (76%) and to increase their earning power (62%).
This marks a significant increase on the 36% of students focused on increasing their earnings in 2004.
The survey found the need to achieve a good degree more pressing than ever.
Some 84% of students said they worried about securing their desired degree classification in 2014 - higher than the 72% troubled by academic concerns two years ago and an increase from the 61% citing this as a concern in 2004, when the survey was first undertaken.
It was observed that over the past six years, students were focusing more firmly than ever on their studies, rather than enjoying active social lives.
More students than ever were worried about balancing their academic, social and work commitments - the second biggest source of stress - with 69% citing this, up from 41% in 2004.
More than three-quarters of respondents (76%) said they spent £20 or less a week on socialising - up from 61% in 2012.
The survey found in order to achieve this, half of all students chose to stay in when hanging out with friends, with a third of students (33%) saying they did not drink at all when socialising, up from 26% in 2010.
Hitting the books was the main activity of the day, with nearly three-quarters (74%) spending two to five hours a day in lectures, seminars or in the lab, and about three-quarters (72%) devoting two to five hours a day to private study.
Moreover, some 18% of this year's respondents said they spent between six and eight hours a day in lectures, seminars or in the lab - an increase on the 9% who had this amount of timetabled study two years ago.
The increased emphasis on studying was also reflected in the decrease in the number of hours students spent working part-time - only 36% said they worked 11-20 hours a week compared to 55% in 2004, while 53% worked less than 10 hours a week, up from 36% 10 years ago.
Jane Longmore, deputy vice-chancellor at Southampton Solent University and co-author and validator of the survey, said: "This year's survey results suggest that a time bomb may be ticking: the percentage of students who think of higher education as 'the next obvious step' diminished from 42% among second and third years to 35% among the most recent cohort.
"This finding prompts an interesting question: would nearly two-thirds of students be drawn to a plausible alternative to higher education if their return on investment could be better justified elsewhere?
"The Australian experience would seem to suggest otherwise; since the cap went in 2008, student numbers have risen by a national average of more than 20%.
"Universities will have to work harder to demonstrate the value of higher education to students."
Popular in the Community