WARNING: Graphic crime scene images which some viewers may find upsetting. View at your own discretion
The Oscar Pistorius murder trial has been shown photos revealing the athlete's walls, floors, furniture, shorts and prosthetic legs spattered with Reeva Steenkamp's blood.
The images also show the bare-chested Paralympian standing at the crime scene where Steenkamp was killed on Valentine's day last year.
The 27-year-old denies the pre-meditated murder of Steenkamp and insists he believed she was an intruder when he shot her through a locked bathroom door.
The prosecution contends Pistorius killed her after an argument and then tried to cover it up by claiming he thought she was a burglar.
A picture of the model's body was also accidentally shown to the courtroom in Pretoria, where Pistorius is on trial.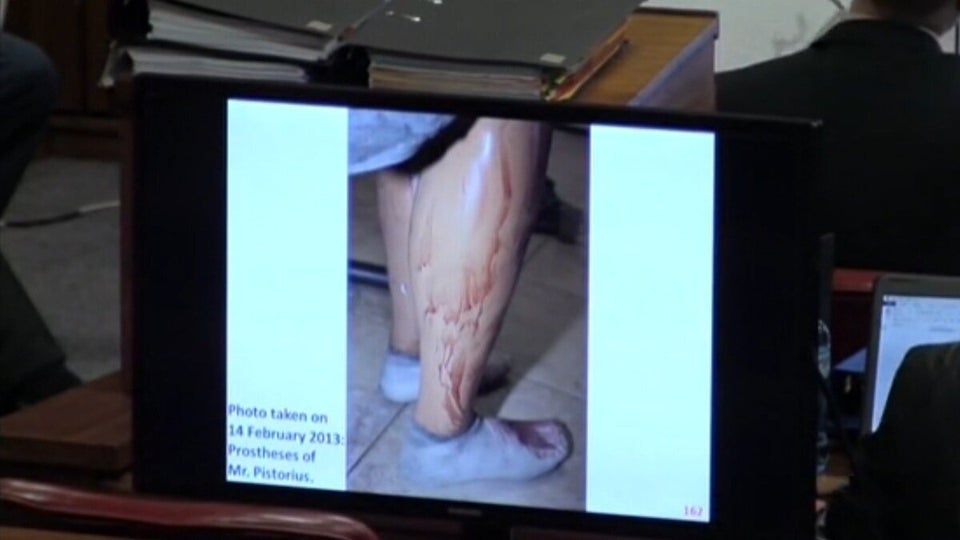 Oscar Pistorius
Colonel Gilliam Schoombie van Rensburg, the commander of the police station nearest Pistorius's home was the third witness to give evidence at the trial.
He told the court he found Steenkamp's body covered with towels and black bags when he arrived at the house. A paramedic told him she had been declared dead on their arrival.
He said: "In the kitchen, there stood the accused, a white male who was made known to me as Oscar Pistorius.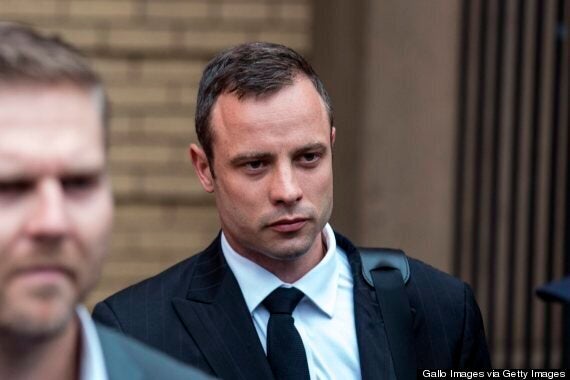 Oscar Pistorius leaves the Pretoria High Court on Thursday
"He was very emotional at that stage and then I asked him what happened. He didn't answer. He was in tears."
Van Rensburg did not arrest Pistorius but did warn him to stay in the house. "I told him I observed him as a suspect at that stage," he told the court.
"I warned him of his rights. i said to him I wasn't arresting him at that stage... I requested him to remain present at all times at the scene." Pistorius denies the premeditated murder of Reeva Steenkamp
On Wednesday, Lieutenant Colonel Johannes Gerhard Vermeulen said he believed Pistorius was on his stumps when he fired through the toilet door, and when he smashed it down with a cricket bat, contradicting Pistorius' claim that he was on his prosthetic legs.
Defence lawyer Barry Roux said Vermeulen had "not bothered" to examine other markings on the door, which he said were made by a prosthetic foot.
Pistorius has said in statements since the killing that he had felt vulnerable that night because he had been on his stumps.