The referendum vote in Crimea was the "first step" in an eventual takeover of eastern Ukraine by Russia, Deputy Prime Minister Rustam Temirgaliev has said.
"Maybe in Crimea, 82% want to join to Russia. I think that in the east of Ukraine approximately 70%, 75% want to join to Russia," Termigaliev told NBC News.
"This is the first step and I really think other regions will follow. I think the second step will be with east Ukraine.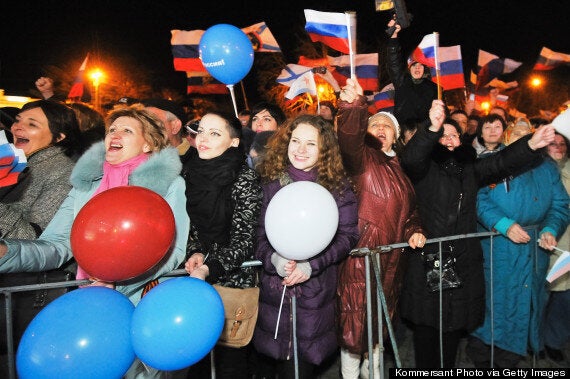 People celebrate after a referendum showed most in Crimea supported joining Russia
Quizzed on whether this could lead to war, the deputy leader said: "Do you see war in Crimea? The whole population wants to join to Russia. There are no problems or conflicts, it's a very stable situation."
In the resolution, all Ukrainian state property on the territory of the Black Sea peninsula will be nationalised and become the property of the Crimean Republic, which could include the beleaguered Ukrainian military installations.
Crimea has now asked the United Nations and other nations to recognise the new state.
The United States and the European Union have said they do not recognise the result of the hastily convened referendum, which was boycotted by many ethnic Ukranians and Tatars, and Western powers are preparing sanctions against Russia, whose troops have been occupying Crimea for several weeks.
President Barack Obama and Russian President Vladimir Putin spoke Sunday about the referendum in Crimea, but both sides remained at odds about the referendum.
"President Obama emphasised that the Crimean 'referendum,' which violates the Ukrainian constitution and occurred under duress of Russian military intervention, would never be recognised by the United States and the international community," the White House said in statement.
Russia has recognised the result of the referendum and a delegation from Crimea will head to Moscow today to discuss the formalities of joining the Russian Federation.
First, Crimea's appeal to join Russia must be approved by Russian President Vladimir Putin and both houses of parliament.
Putin's office said on Sunday night, after the call with Obama, that the referendum was "fully consistent with international law and the UN Charter, taking into account in particular, the famous Kosovo precedent. At the same time, the residents of the peninsula were guaranteed the possibility of free expression and self-determination."
Despite Foreign Minister Sergey Lavrov's claim that Russia had "no plans" to invade eastern Ukraine, the Ukrainian government seems to regard further incursions as a matter of time.
Ukraine's defence minister Ihor Teniuk has claimed 60,000 Russian soldiers are amassed on the eastern border of Ukraine, which Russia has said is a pre-schedule training exercise. Ukraine has also begun moving troops into the region.
Teniuk had previously said that even a pro-Russian vote in the referendum would not mean Ukraine would surrender the territory, but on Sunday the Ukranian government backtracked, saying a truce with Russia would continue until March 21.
Popular in the Community