London "doesn't need" to use the pollution-tackling measures introduced in Paris, a senior adviser to Boris Johnson has said, after the French capital forced cars off the roads.
On Monday Parisian authorities forced all cars with number plates ending in even numbers off the roads, with 700 police officers manning 60 checkpoints to check only cars ending in odd numbers were on the street.
Public transport has been free all weekend to encourage Parisians not to drive, as the city's pollution particulates in the air exceeded safe levels for five straight days in Paris - at 180 microgrammes.
But despite unsafe levels being recorded around some of London's main tourist hotspots - with the worst at Buckingham Palace, the London Mayor's office said it didn't believe such schemes worked.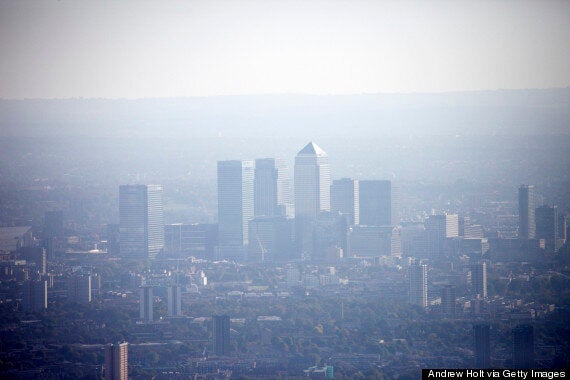 London's pollution has been nearly as bad as Paris in recent days but no emergency measures have been taken
Matthew Pencharz, the Mayor's Senior Adviser on Environment and Energy said Boris Johnson had "implemented ambitious daily pollution tackling measures so that the capital does not need to use emergency car restrictions.
"We looked into similar schemes and we found these measures don't work in the long term and can have the unintended consequence of moving problem pollution from one area to another.
"Instead, the Mayor has committed millions of pounds to delivering pioneering initiatives, including proposing a new Ultra Low Emission Zone and creating Europe's largest fleet of hybrid buses to improve air quality."
In Paris vehicles carrying three or more people, electric and hybrid cars are exempt from the scheme. Odd numbers could potentially be banned on Tuesday if necessary.
Air pollution expert Dr Gary Fuller, King's College London, told HuffPost UK that this kind of emergency measure had not been seen in decades, but said northern Europe, including London, had experienced a severe pollution build-up through last week.
"There is a consensus that it is long term exposure to pollution that causes the damage," he said. "The EU has made it illegal for cities have more than 35 days of pollution over a certain level, and some cities are racking it up very quickly.
"There are a number of huge cities in the UK, France, the Netherlands, that are very close to each other geographically and the pollution and that can cause a major build up when the pressure is low and the air does not clear.
"It's very hard to tell whether such a measure will make a real, long-term impact.
"Perhaps a co-ordinated action campaign with measures on all cities in the area would work better. We are all sharing the same air, and the pollution here does not just affect residents of London but the whole area."
France's Automobile Club Association Didier Bollecker opposed the measure in Paris, saying in a statement: "This measure had no effect in any country where it was introduced.
"Drivers are being targeted even though heating is more polluting, but no one is asking for heating to be used on alternate days."
Buckingham Palace has the worst air pollution in the country, four times the safe level of toxic gas mandated by the EU, it was revealed earlier this month. Researchers from DEFRA found 152 milligrams of the gas per cubic metre of air, the culprit being diesel engine fumes. The EU legal limit is 40.
Other highly polluted areas include Oxford Street near Marble Arch, which registered at 150 micrograms, and Trafalgar Square on 138 micrograms.