The missing Malaysia Airlines flight MH370 may have used a dangerous technique called "terrain masking", flying low to avoid detection on radar, investigators have suggested.
The passenger plane would have passed through at least three countries, based on the estimated time it spent in the air, and dropped to altitudes as low as 5,000 feet. The search for the plane, which Malaysia's prime minister said had conclusively been hijacked or sabotaged, is now entering its second week.
The New York Times, quoting unnamed sources, said MH370 climbed to an altitude of 45,000 feet, then dipped to 23,000 feet and "made sharp turns throughout the journey, first flying west towards Penang, then shifting southwest and then going north-west over the Straits of Malacca and towards the Indian Ocean".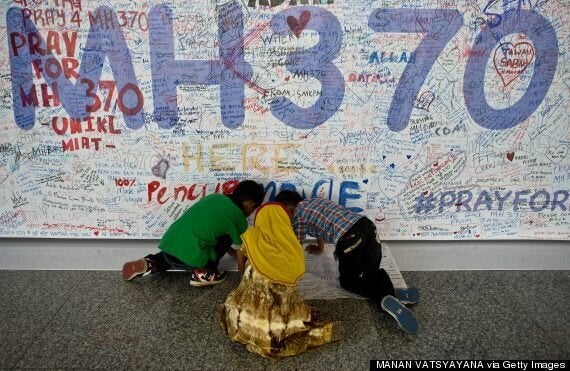 Children write messages expressing prayers and well-wishes for passengers onboard missing Malaysia Airlines
Flying so low would have put incredible pressure on the Boeing 777's systems.
In a press conference this morning, Malaysian Acting Transport Minister Hishammuddin Hussein said the southern corridor had now been divided into two locations, with searches beginning both there and in the northern corridor.
French investigators have now joined the search, and Australia has sent two additional planes.
Malaysia Airlines confirmed on Monday morning that it had tightened security procedures, but said that the passenger manifest had been passed on to Chinese authorities who had cleared all the passengers of suspicion.
Captain Zaharie Ahmad Shah and co-pilot Fariq Hamid who flew the doomed plane are being investigated by authorities, with their homes searched and a flight simulator removed from Shah's home.
On Sunday, Malaysia appealed for more international coordination, including the sharing satellite images, which could include sensitive military radar data. Hussein would not comment on whether it had asked other countries to open up their military radar tracks, but told reporters Kuala Lumpur had asked for both primary and secondary radar data.
Responding to questions about the two pilots, Hussein said the men had not asked to fly together.
The press conference was told that 25 countries are now involved in search effort, looking at areas 11 different countries, as well as searching the oceans.
The plane had been through all the normal technical checks, and was safe to fly, documents have confirmed today, and also refuted claims that the plane was loaded with extra fuel.
Last week it was revealed that the final radio communication from the cockpit was believed to be pilot Captain Shah telling ground control: "Alright, good night."
But the plane's ACARS transmission system - which sends information to ground control - had been switched off, before that transmission was sent, suggesting any sabotage was already underway.
In the press conference today, Hussein said it had in fact been the co-pilot who had made the last contact with air traffic control.