Otters may be adorable little critters who hold hands when they sleep, but you wouldn't want to get on the wrong side of one.
Customers were reportedly left cowering after a wounded and "heavily breathing" otter bolted into a Skippy's Fast Food restaurant in Alesund, Norway last week, The Local writes.
The panicked animal had facial and leg wounds – believed to have been caused by a propeller – and prompted restaurant owner Mohamed Rashed to call the police.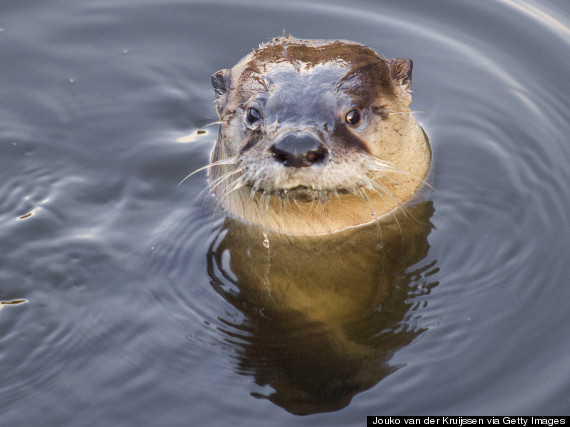 Otters are apex predators (file picture)
He told TV 2: "We did not know what kind of animal it was. I have never seen an animal like that in my life. I was terrified it was going to attack."
Wildlife officer Håkan Sunde snared the marine mammal. He told The Local: "I didn't have any gloves, so when I put the otter in the dog cage, it decided to start eating one of my fingers.
"It was not a serious injury, but it was quite strong in the jaws. I had a tetanus shot just after the bite, so it's OK."
We're very sad to say the animal was so badly injured it had to be euthanised.
SEE ALSO: Beaver 'Bites Fisherman To Death In Belarus After He Tried To Take Its Photograph'
While this story had a tragic ending, just to reinforce what fabulous badasses these creatures are, let's look back at the images we brought you earlier this month showing a fuzzy little otter attacking and killing an alligator.
The surprisingly brutal pictures were taken by Geoff Walsh in Florida's Lake Woodruff National Wildlife Refuge and posted to Facebook by the US Fish and Wildlife service.
According to a caption posted with the photos, the otter eventually pulled the juvenile gator up onto a bank and began chomping on it "as evidenced by crunching noises."
The post also notes that despite their adorable appearance, otters are often the apex predator in many freshwater habitats, meaning they have no natural predators of their own.