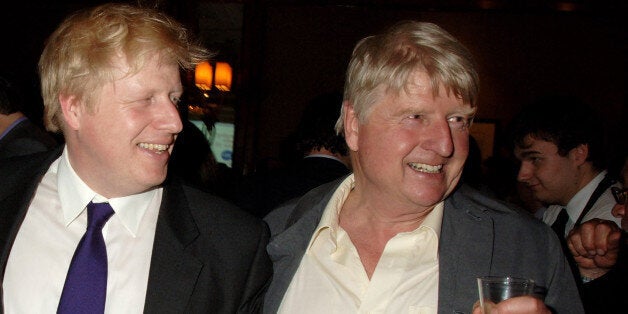 In a characteristically forthright intervention, Stanley Johnson said running requirements should be reformed to allow Tories from outside the Commons to compete - a move which would pave the way for his son to stand while keeping his promise to remain as Mayor of London until 2016 and bypass the need for a parliamentary comeback next year.
The question of who will succeed Mr Cameron as Tory leader has become an increasing source of tensions within the party in recent weeks with claims that the mayor is angry over briefings which appear to be aimed at destabilising any leadership ambitions he has.
An attack last week by Education Secretary Michael Gove about the "ridiculous" number of Old Etonians has been described as an attempt to stymie any attempt by Mr Johnson to bid for the top job.
Mr Johnson Snr said the precedent for leaders who were not initially MPs had already been set because Sir Alec Douglas-Home became prime minister from outside the Commons.
Asked if he had been set up to to call for the rule change by his son, he told the BBC Radio 4 Today programme: "100% not. As a matter of fact this is a purely hypothetical exercise because, as you know, the Conservatives firmly expect to win an overall majority at the next election.
"We firmly expect the leader to be in place then. It's a question of just getting some appropriate system.
"It doesn't seem to me to be reasonable in this day and age, you know, you have got plenty of candidates out there. Why should the candidates only be Members of Parliament?
"I'm really suggesting that there are other people who have been elected, there have for example been MEPs, you know these are a reasonable bunch of people - men and women.
"All I'm saying is there is a case for looking at the rules. You've got MEPs, you've got councillors, you've got other elected mayors, you've, by the way, got a group of Lords, elected Lords, they have an election.
"I am saying, surely the moment has come to have another look at the rules?"
Mr Johnson added: "I'm old enough to remember that Alec Douglas-Home was not a Member of Parliament when he became the leader of the Conservatives."
Asked about Mr Gove's comments on Old Etonians, he replied: "Past participle of give is gove. As far as I'm concerned, I don't take any notice."