Nasa has released one of the highest-ever resolution pictures of the Moon.
The incredible 2m-per-pixel image covers an area which is almost 25% as large as the United States.
Created from 10,581 individual pictures taken by the Lunar Reconnaissance Orbiter (LRO), the mosaic reveals the pole of the Moon In dramatic new detail.
The image has a total of 680 gigapixels of valid image data, which is one of the largest in existence.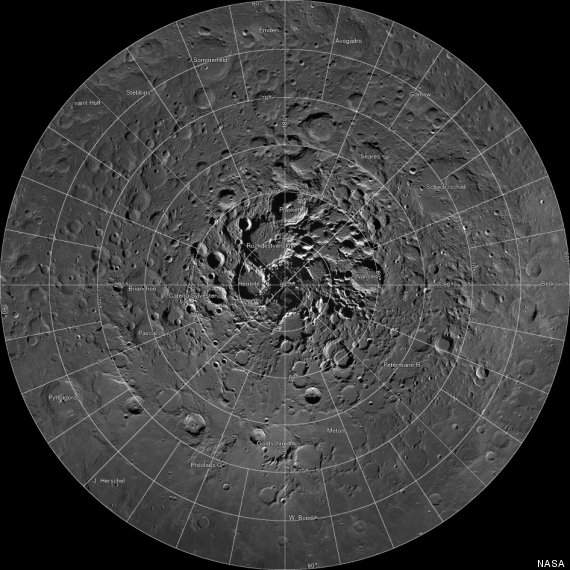 The space agency said:
"The cameras can record a tremendous dynamic range of lit and shadowed areas.

Web viewers can zoom in and out, and pan around an area. Constructed from 10,581 pictures, the mosaic provides enough detail to see textures and subtle shading of the lunar terrain. Consistent lighting throughout the images makes it easy to compare different regions."
Nasa has provided a fully zoomable version of the picture at a dedicated 'gigapixel' webite.

At the Gigapan website the agency gave more details about how the mosaic was made.
"To create the mosaic, each LROC NAC image was map projected on a 30 m/pixel Lunar Orbiter Laser Altimeter (LOLA) derived Digital Terrain Model (DTM) using a software package called Integrated Software for Imagers and Spectrometers (ISIS). A polar stereographic projection was used in order to limit mapping distortions when creating the 2-D map. In addition, the LROC team used improved ephemeris provide by the LOLA and GRAIL teams and an improved camera pointing model to enable accurate projection of each image in the mosaic to within 20 meters."