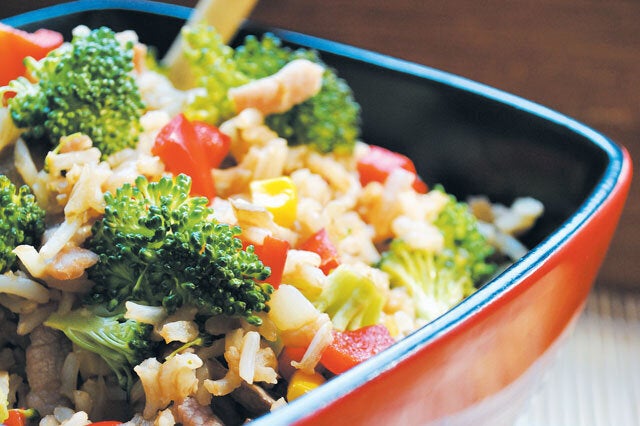 Gluten-free rainbow vegetable and smokey bacon medley
by Kate Hardie
Whatever vegetables are a hit or a miss in your household, this stir fried rice recipe is a great way to ensure your child is getting additional veggies into their diet.
Serves:
4
1 small onion, finely diced
4 rashers lean smoked bacon, sliced into 1cm strips
75g / 3oz button mushrooms, sliced
1/2 red pepper, de-seeded and diced
75g / 3oz broccoli florets, roughly chopped
3 heaped dessert spoons sweetcorn
1 tablespoon gluten-free, low salt soy sauce
1.Place the rice in a pan of boiling water and cook thoroughly. Whilst this is cooking, add the sesame oil to a hot wok and saute the onion until opaque.
2. Add the strips of bacon and pan fry until cooked. Next, add the garlic, button mushrooms, peppers, broccoli, sweetcorn and gluten-free soy sauce and continue to stir over a medium heat until the vegetables are al dente.
3. Drain the cooked rice and add to the vegetable medley, stirring until equally distributed. Serve immediately in warmed bowls.