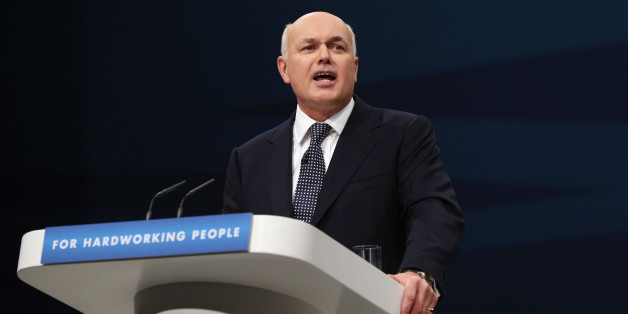 Oli Scarff via Getty Images
Iain Duncan Smith has urged British employers to try to take on an unemployed Briton first before offering a job to a foreign worker.
The work and pensions secretary told the House magazine that he wanted to stop Britons from being "undercut" by foreign workers.
In a message echoing Gordon Brown's call for "British jobs for British workers" in 2007, Duncan Smith said bosses should "try one of our unemployed people first before you go anywhere else".
Duncan Smith also dismissed criticism that he could not understand what it was like to live on the breadline or on benefits.
"I've been unemployed," he said. "We didn't have smart Job Centres in those days. I've been made redundant when I thought my career was heading in the right direction. I know what it's like to be without work, without an income, worried about what you are going to do.
"I had a family and kids at that stage, things were a little difficult, interest rates had jacked up. The economy wasn't looking great. It was under Nigel Lawson, I remember categorically worrying about where that went.
"And I remember when I came out of the Army, I didn't come out into work. I had to go searching for work. And I did. I went to the library, I got the stock market yearbook out, I wrote to people, names.
"I spent all day writing; I must have written hundreds of letters to people, asking for jobs. We didn't have universal job match then, I had to look in the newspapers, I applied for every job. I didn't inherit vast great monies at all, any monies really, so the money that I've had has been the money that I've worked for."
Duncan Smith also said that he was "happy" for people to visit food banks and doesn't have a "particular problem" with them, even though figures suggest they have been spreading around Britain under the coalition.