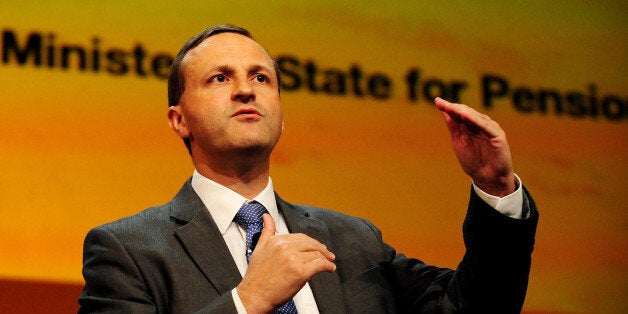 Here are the five things you need to know on Friday 21 March 2014...
1) LET THEM BUY LAMBORGHINIS
The Mirror wins the best headline award for its coverage of Lib Dem pension minister Steve Webb's comments with 'Let them buy lamborghinis.' The paper reports:
"Rich retirees should be free to spend their life savings on Lamborghinis, Pensions Minister Steve Webb claimed yesterday. The Lib Dem said he was 'relaxed' if people with six-figure pension pots squandered it on fast cars - even if they fell back on the state later. He said: 'If people do get a Lamborghini and end up on the state pension, the state is much less concerned about that and that is their choice.' Labour said he had let the "cat out of the bag" about George Osborne's reforms in the Budget, which let people withdraw their pension pot in full rather than buying a guaranteed income annuity... Economists at the Institute for Fiscal Studies agreed the policy could leave some people destitute in old age and said: 'They may overspend early.'"
On the subject of the Budget, my HuffPost colleague Asa Bennett reports that "George Osborne has given HMRC the power to delve into Britons' bank accounts for money that officials think is owed in unpaid taxes, in a move which critics have warned leave officials 'a law unto themselves'. The Chancellor slipped details of the move out in the Budget's Red Book, which stated that HMRC will be able to take money from people who owe officials over £1,000 in tax."
James Corden, guest editor of the Sun for Sport Relief, interviews David Cameron, who says... wait for it... he wants Boris Johnson back in Parliament. Yes, really. From the Sun:
"[Cameron] signals he would not oppose his old Eton and Oxford pal taking his crown, saying: 'There is nothing ignoble about wanting my job'. Significantly, Boris, 49, has made it clear he would only want to be an MP again if it meant running to be Tory leader. The PM has previously said he would like Boris to return to the Westminster frontline — but has never set a specific time for it. At the Tories' annual party conference in September, Mr Cameron said: 'My message to Boris is, 'You're a brilliant Mayor of London, you've done a great job, you've got a lot more to give to public life and it would be great to have you back in the Commons. But that's up to him.' The intervention is likely to infuriate friends of Chancellor George Osborne, who want him as Mr Cameron's successor."
It was only a matter of time. From the Telegraph:
"David Cameron and Barack Obama faced calls last night to take financial action against Roman Abramovich, the Chelsea FC owner, over Russia's annexation of Crimea. A Russian opposition leader said the West's response to the crisis should include seizing the assets of wealthy Russians, including Mr Abramovich and Alisher Usmanov, a major shareholder in Arsenal FC. So far, Western sanctions imposed in protest at Russian aggression in Ukraine have fallen on Russian politicians and officials. But Alexei Navalny, a leading critic of Vladimir Putin, said the sanctions should be aimed at billionaire "oligarchs" with close links to the Russian president. In an article in the New York Times, he called for action against a list of businessmen including Mr Abramovich and Mr Usmanov. Neither man has any public connection to Mr Putin or the Russian government."
Meanwhile, the BBC reports: "The EU has imposed sanctions on another 12 individuals over Russia's annexation of Crimea from Ukraine. The EU said any further steps by Russia to destabilise Ukraine would have 'far-reaching consequences'. President Barack Obama also announced further US sanctions as Moscow prepares to finalise the treaty taking Crimea into the Russian Federation."
BECAUSE YOU'VE READ THIS FAR...
Watch this video of a Duke of Edinburgh scheme participant trying to jump over a mud puddle... and failing. Spectacularly.
Former Tory chairman Lord Tebbit has been speaking out - and by 'speaking out', I mean slamming his party's leadership. My HuffPost colleague Ned Simons reports:
"Lord Tebbit, the Thatcherite former Conservative cabinet minister, has criticised the government's "bedroom tax" policy and warned it will cost the Tories votes at the next general election. 'I worry about what Labour chooses to call the bedroom tax," he said. "Because so often what is a spare room is in fact a vital part of the looking after an elderly person. It enables their relatives to come, it enables carers to be there.' He added: 'I think we introduced that rather without thinking it through very well, and I think that's costing us.'"
It wasn't just the bedroom tax he went after, incidentally. The Sun reports: "David Cameron should be axed before the General Election to give the Tories a chance of winning a majority, according to a party grandee. Lord Tebbit, 82, said the next leader should be "a son of Thatcher and not a son of Tony Blair". The peer, a Cabinet minister under the Iron Lady in the 1980s, declared: "I hope we can feel like Conservatives again." He also called for a preelection pact with Ukip."
5) 'WILL 'PATRONISING' AD COST PARTY BOSS SHAPPS HIS JOB?'
That's the question posed by a headline in the Daily Mail - and, speaking from personal experience (!), when the Mail goes for you, it really goes for you:
"Tory chairman Grant Shapps came under fire from his own party last night over a 'patronising' advert highlighting Budget cuts to bingo and beer duty. Mr Shapps suffered a ferocious backlash on Twitter after posting the advert in an apparent bid to woo working-class voters. Downing Street insisted David Cameron had 'full confidence' in his party chairman, adding: 'He thinks he's doing a good job.' But some Tory MPs said the advert – which sparked dozens of internet spoofs yesterday – raised questions about Mr Shapps's 'suitability' for the job."
The paper reproduces dozens of tweets mocking and spoofing Shapps' beer-and-bingo 'to help hardworking people do more of the things they enjoy' Budget poster.
The Mail article also quotes Boris Johnson as "declining" to support the ad: "I didn't write the blooming thing," he said.
Oh dear. Poor Grant. He's so embarrassed, as one wag on Twitter put it, he may start using a different name...
From the Sun/YouGov poll:
That would give Labour a majority of 60.
Philip Collins, writing in the Times, says: "One by one, Labour is losing the arguments."
Polly Toynbee, writing in the Guardian, says: "Older people vote – that's why George Osborne's budget is for them."
Fraser Nelson, writing in the Telegraph, says: "Politics is in new territory after George Osborne's pensions revolution."
Got something you want to share? Please send any stories/tips/quotes/pix/plugs/gossip to Mehdi Hasan (mehdi.hasan@huffingtonpost.com) or Ned Simons (ned.simons@huffingtonpost.com). You can also follow us on Twitter: @mehdirhasan, @nedsimons and @huffpostukpol