A 56-year-old man is no doubt grateful for the wonders of denim after his estranged wife's attempts to cut off his penis were apparently thwarted by his jeans.
Gerald Lee Orock Jr's manhood remained intact – despite allegations Lisa Orock-Jones had come after it with a box cutter.
Orock, of Ellwood City Pennsylvania, was briefly taken into custody after Orock-Jones initially told police he had attacked her.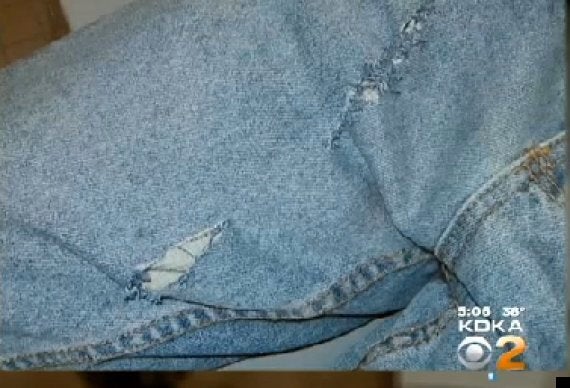 Lisa Orock-Jones's attempts to hack off her estranged husband's penis with a box cutter were apparently thwarted by his jeans
Officers later found the suspected weapon and blood on the ground, KDKA reports.
They also found slash marks at the crotch his jeans and defensive wounds to his hand and arm.
"We deal with domestic situations all the time, but I don't recall anything getting this physical where genitalia was attacked," New Castle Police Lieutenant David Cumo said.
"He said she had attacked him with the box cutter and was trying to cut off his penis. Officers observed cuts in his crotch area of his pants, some cuts on his legs. He did have a cut on his left forearm and his right hand which did indicate defensive wounds to them."
Jones-Orock was arrested and charged with multiple counts of assault and marijuana possession.
Meanwhile Orockwas also charged with violating a protective order, stemming from a 2011 incident where he allegedly punched her, the New York Daily News writes.
The pair are both being held at the Lawrence County Jail on a $5,000 bond.