Relatives have expressed shock and relief after receiving news of the formal identification of 10 soldiers who were killed during the First World War.
The remains of the troops were found during construction work near the French village of Beaucamps-Ligny in 2009 and were identified after their relatives provided DNA samples.
The soldiers were serving with 2nd Battalion The York and Lancaster Regiment and were killed in battle on October 18 1914.
Story continues after slideshow...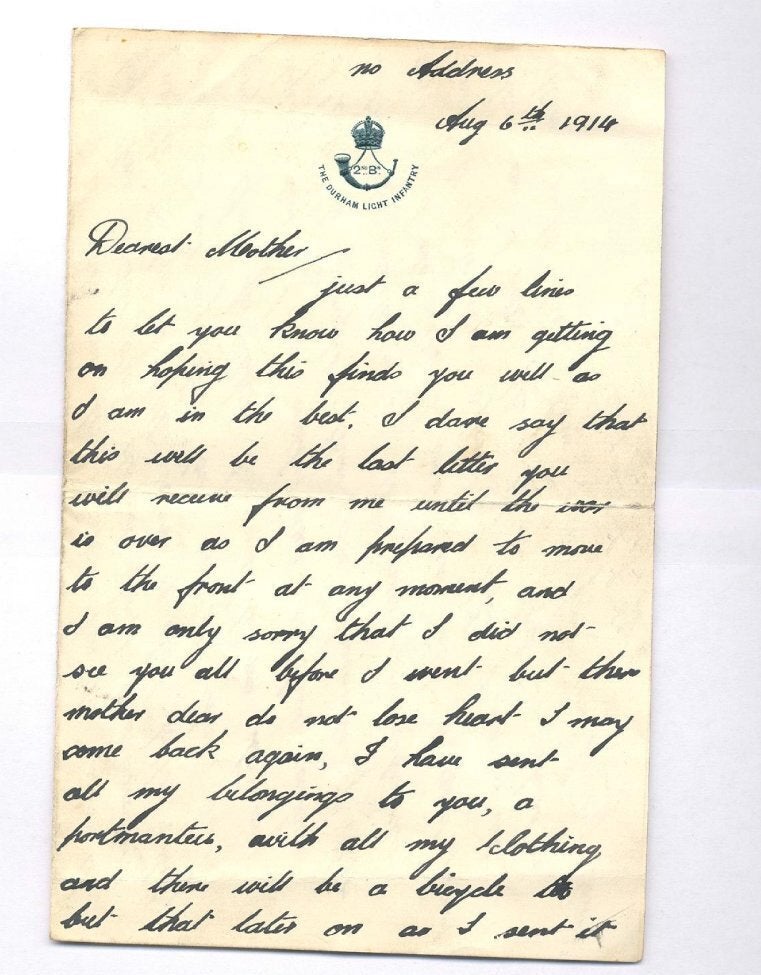 World War One Wills
The discovery will allow relatives to see them laid to rest 100 years on from the outbreak of the war.
They will be reburied with full military honours at a Commonwealth War Graves Commission cemetery in October in an event to be organised by the 4th Battalion The Yorkshire Regiment, which traces its history back to the earlier regiment.
Work to identify a further five sets of remains found at the same time is continuing.
Private Herbert Ernest Allcock, 32, born in Leeds, and family now living in Lancashire.
Private John Brameld, 30, born in Sheffield and family now living in Yorkshire.
Corporal Francis Carr Dyson, 26, born in Wakefield and family now living in Derbyshire.
Private Walter Ellis, 31, born in Doncaster and family now living in Yorkshire.
Private John Willie Jarvis, 34, born in Rotherham and family now living in Yorkshire.
Private Leonard Arthur Morley, 22, born in Boxhill, Surrey and family now living in Canada.
Private Ernest Oxer, 28, born in Rotherham and family now living in Yorkshire.
Private John Richmond, 28, born in Nottingham and family now living in Nottinghamshire.
Private William Alfred Singyard, 30, born in Newcastle upon Tyne and family now living in Lincolnshire.
Lance Corporal William Henry Warr, 27, born in Dorset and family now living in Somerset.
Marlene Jackson, great-niece of Private Allcock, said: "It was quite a surprise when they initially phoned, I had no idea I had a great-uncle, it was never talked about in the family.
"They said would I mind giving my DNA, and I did and now it's confirmed.
"He was the brother of my grandmother Ethel, who died aged 102 in 1988. He had enlisted as a soldier and served in India and Ireland before the war, leaving his wife, also Ethel, and two daughters when he died.
"I feel quite emotional about this, I never knew I had a great-uncle who had died in France. We're going to the reburial in October."
The 69-year-old retired teacher, who is married with two children, lives in Garstang, Lancashire.
Maureen Simpson, granddaughter of Private Brameld, of Sheffield, said: "I think it's wonderful, I think they've done a fantastic job, it just closes the book, doesn't it, it puts an end to wondering what happened to them.
"My father Arthur was only two when his father was killed, and used to go with the British Legion to France to look at the war graves, in the hope that he would be able to find him, but he never did before he died in 1979.
"I think my grandfather joined up when he was 18, then came out of the Army for about five or six years, and was in the reserve, working as a table blade grinder in Sheffield, and was then sent for when the war began."
He left wife Rachel and son Arthur and daughter Edna, said Mrs Simpson, 75, of Stradbroke, Sheffield.
Denise Womersley, great great great niece of Pte Ellis, said: "Obviously it is nice finally to know what happened to him. I had been researching the family tree and knew he was in the Army, but nothing more.
"Now he can be buried in the way that he deserved."
The soldier was the eighth of nine children, and was unmarried.
He joined the reserve in 1905 and had been working on the railways in Doncaster before he was sent off to the war, said the academic support secretary, 49, of Farsley, West Yorkshire.
Barrie Richmond, great nephew of Pte Richmond, said: "We are surprised and amazed and excited - and humbled. He was a great uncle we didn't know anything about - perhaps it was the grief, that people didn't want to speak about it.
"We have found out so much about him. He enlisted in October 1904, signed on for three years, served in India, then worked in the lace making industry before being recalled in 1914.
"He was from Radford, Nottinghamshire, and married wife Ellen, but they had no children.
"We'll be going to the reburial in October - and have been invited to write a verse for the headstone. That really got to me - it's our chance to say thank you to him."
Mr Richmond, 74, is a retired BT manager, of Linwood Crescent, Ravenshead, Nottinghamshire.
Peter Hague, a cousin twice removed of Cpl Dyson, said: "It is terrific that he has been found, identified and now can be put into a named grave.
"I've been developing my family tree for some time, since I retired, and I've come across a number of people who died on active service, so I did know about him. His younger brother died in 1918 in active service with the Royal Artillery in Flanders.
"He became a professional soldier in 1908, and just before the war he was training in Ireland, and they were mobilised and sent to France in double quick time."
Cpl Dyson was born in Wakefield and lived for a time in Sheffield, said Mr Hague, 70, a retired computer programmer, of Chinley, High Peak, Derbyshire.
Alan Warr, nephew of Lance Corporal Warr, said: "It's absolutely marvellous that they've found him. It's a shame that none of his brothers and sisters are still alive, they would like to know that he has been found, but the last sister died four years ago, in her 90s.
"Two brothers were killed, and we knew that one of them was buried in Belgium, but didn't know where William was. When we saw some remains had been found, it did cross our minds that it could be him, and then we heard from the Ministry of Defence, asking if I would take a DNA test. It's nice to know that he has been found."
Lance Corporal Warr, one of 14 brothers and sisters, was from Lyme Regis, Dorset, said Mr Warr, 61, a retired building worker, of Mayfield Road, Yeovil, Somerset.
Barry Singyard, second cousin twice removed of Pte Singyard, said: "It's great. I never even knew the chap existed, but I was asked to provide a DNA sample, and was glad to help. I'm delighted that he has been found.
"He was born in Newcastle, enlisted in 1903, served in the Army until 1911, then came out and was working as a tanner back in Newcastle, and was called up when the war started.
"He was married to wife Margaret, and his daughter Elizabeth was born in September 1914, the month before he was killed," said Mr Singyard, 65, a retired engineer of Heckington, near Sleaford, Lincs.