A manager's future will inevitably be questioned after their side is walloped 6-0 and often it is either a knee-jerk reaction or the straw that broke the crippled camel's back. In Arsène Wenger's case, it is the latter after his Arsenal side sieved a further six goals against top four opponents.
In their away defeats at Chelsea, Liverpool and Manchester City, Arsenal have conceded an astonishing 17 goals. They have a game in hand on José Mourinho's side against Swansea on Tuesday, when a win could take them to within four points of the Premier League summit. Strange, but true.
No one has taken Arsenal seriously in a decade. This has been their strongest tilt at the title since 2008 yet they have collapsed more spectacularly than that season when Eduardo da Silva broke his leg, Emmanuel Adebayor refused to square it for Nicklas Bendtner at 2-1, Gaël Clichy conceded a last minute penalty, James McFadden equalised and William Gallas imploded during one emotional afternoon at Birmingham.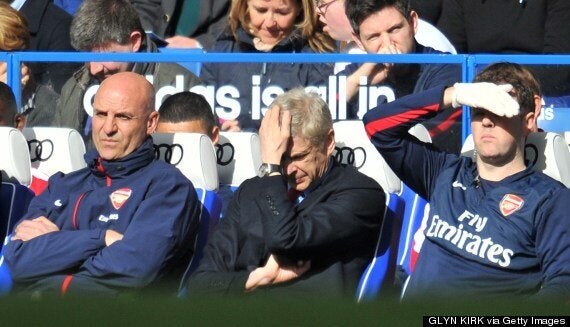 Wenger reacts during Chelsea's evisceration of Arsenal on Saturday
That match, like the aforementioned disasters at Stamford Bridge, Anfield and Eastlands, also kicked off at 12:45. Per Mertesacker suggested the timing hindered Arsenal again.
"I don't know why, but it looks like we don't fancy early kick offs away," he said. "It looks like we are going to have to apply to the FA to not play at 12.45 away. That would help us a lot."
Mertesacker, at least, is not short of humour. There is little to laugh about at the Emirates.
Months ago, March was identified as Arsenal's acid test. They predictably lost at Stoke, defeat to Bayern Munich was no disgrace and they won gutsily at Tottenham, but the manner of Arsenal's pitiful capitulation at Chelsea was extraordinary. To be thrashed once may be regarded as a misfortune; for it to happen twice looks like carelessness, but for it to occur a third time is unforgivable.
Had Mesut Özil not adapted so ebulliently to English football the Wenger agenda would have begun earlier. The £42.5 million capture masked Arsenal's failure to sufficiently strengthen in the transfer window again, and it was mainly thanks to Manchester United's amateurish preparations and stuttering start that Arsenal's shortcomings were overlooked.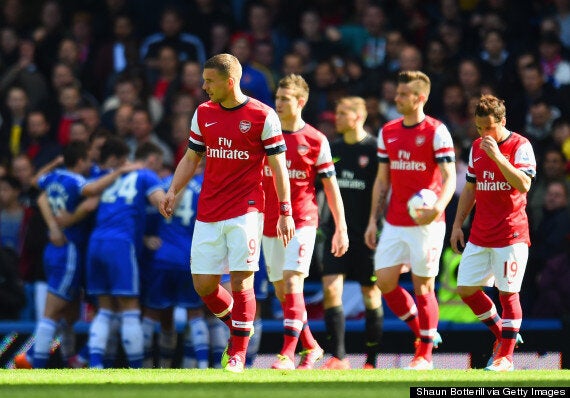 Arsenal have lost by an aggregate scoreline of 17-4 at their top four opponents
Even at the weekend, a referee mistook one player for another in what was an innovative attempt to protect Wenger, yet it was never likely to work. The Arsenal press spokesman said the post-match press conference was cancelled because "the bus had to go". This was as risible a Wenger excuse as "I did not see the incident."
He could not have foreseen a joint-record defeat in his 1,000th game, either. The pre-match build-up was rightly dominated by his effect on English football, yet Arsenal are a club in danger of becoming as fond of the past as Liverpool supporters.
They needed a goalkeeper, a centre-back, a defensive midfielder, a winger and a striker in the summer and all they got in January was Kim Källström, still yet to make a first-team appearance. Wenger bid £40,000,001 for Luis Suárez but, like his management, he appeared to have no Plan B.
Aaron Ramsey, Jack Wilshere and Mesut Özil's absences gave Arsenal a depleted look, but Mikel Arteta started again ahead of Mathieu Flamini and Lukas Podolski was also entrusted with defensive duties.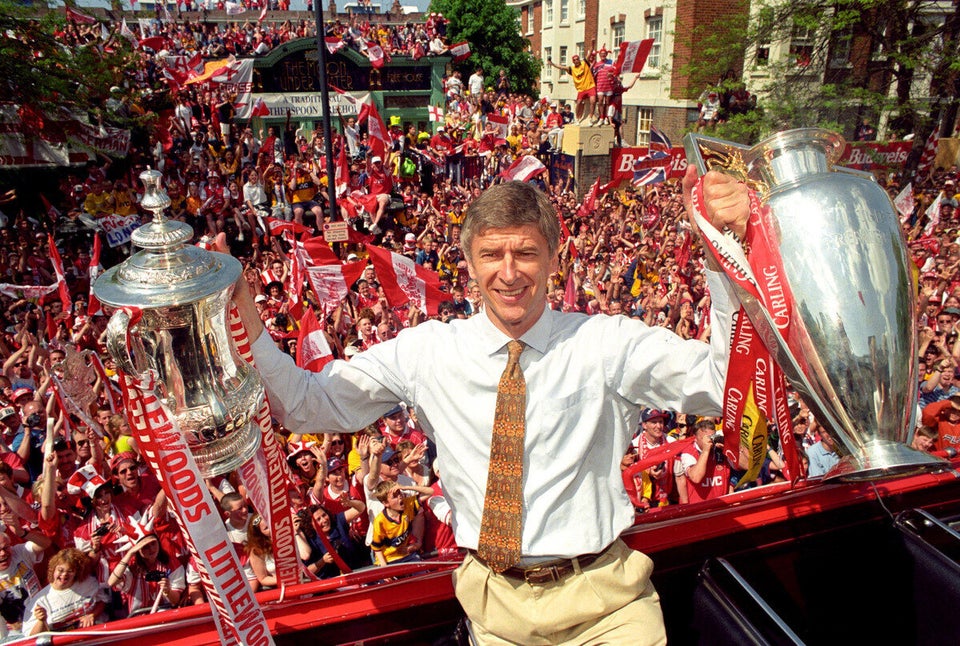 Arsène Wenger
"Arsène Wenger, we want you to stay," gloated Chelsea's supporters. They said the same thing about David Moyes, although he was not serenaded with chants of "specialist in failure" as well. However harsh Mourinho's words were, they were credible and Wenger has not beaten the Portuguese in 11 attempts now.
The FA Cup semi-final with Wigan was not considered a formality after the holders' triumph at Manchester City, and now it resembles the slipperiest of banana skins. Arsenal ought to end their trophy drought, with Sheffield United and a Hull City deprived of their two cup-tied strikers the other semi-finalists, but it is an indication of the Gunners' mental fragility that should they not win at Wembley on 17 May few will consider it a surprise.
Wenger's contract expires in May and it would be negligent of the Arsenal board not to consider other options. Jürgen Klopp, Diego Simeone and Antonio Conte would all reinvigorate a club whose season has often ended before the clocks go forward.
Rekindling his love affair with the FA Cup would be the perfect time for Wenger to end his Arsenal reign, rather than build on it.