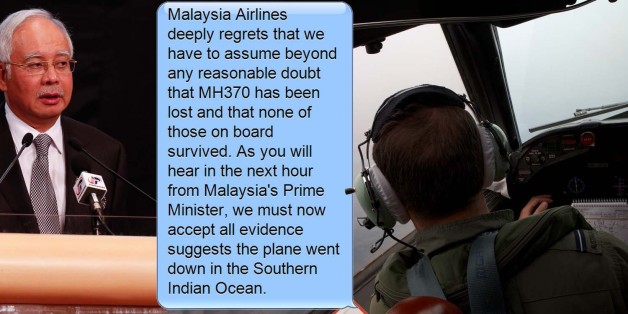 The families of passengers on board the missing Malaysia Airlines jet were sent a text telling them that their loved ones had not survived.
"We have to assume beyond reasonable doubt that MH370 has been lost and that none of those on board have survived," the message said.
"We must now accept all evidence suggests the plane went down in the southern Indian Ocean."
The airline said that a translation of the message – sent to Chinese family members – into Chinese was "in progress".
The text msg Malaysia Airlines sent to inform Chinese #MH370 families about flight's fate ending in S Indian Ocean pic.twitter.com/Ys3azWL7WB

— Adrienne Mong (@adriennemong) March 24, 2014
Heartbreaking scenes have been shown from the hotel room where the relatives of the missing passengers are being held in Beijing.
Stretchers and police have been rushed into the building as family members react to the news.
The Beijing Correspondent of the Daily Telegraph reported that "wailing" family members screamed in frustration at the devastating news.
"One relative breaking down in front of the media, saying she is completely desperate," he said.
Before today's bad news, relatives had spoken of their hope that the plane had been involved in a hijacking and landed safely.
Stretcher arriving at Beijing hotel #MH370 pic.twitter.com/10MOcbADWE

— malcolmmoore (@MalcolmMoore) March 24, 2014
More police arriving at Lido hotel to control the situation MH370 #Beijing pic.twitter.com/g49I2ITFiN

— malcolmmoore (@MalcolmMoore) March 24, 2014
Relatives screaming in anger at Malaysia, shouting at media scrum to give them space #MH370 #Beijing

— malcolmmoore (@MalcolmMoore) March 24, 2014
Scuffles break out at Lido hotel in Beijing where #MH370 families gathered. Women screaming, cyring, Police & medics gone into room.

— Jon Williams (@WilliamsJon) March 24, 2014
V small space here at the hotel, relatives exiting to a bear pit of TV cameras. V grim MH370

— malcolmmoore (@MalcolmMoore) March 24, 2014
One woman, reportedly pursued by the press, fled the room and fell down the escalator at the hotel.
Some relatives had threatened to go on hunger strike in an effort to receive more information as the search dragged on and authorities released conflicting information.
Malaysia Airlines denied in a statement that it had only used SMS to inform relatives of the latest information.
A spokesman said: "Malaysia Airlines did not only send an SMS. The message was conveyed to all families face to face by our top management at the hotels.
"SMS and phone calls were made to those who are not in the hotels via our family support centre. We wanted to ensure that families are informed via all channels."
Malaysian authorities have said they can now assume "beyond doubt" that no one has survived on board the missing flight MH370.
In a emergency press conference, Malaysian Prime Minister Mohd Najib Tun Razak confirmed satellite imagery showed that the plane flew along the area known as the southern corridor and its last position was in the middle of Indian Ocean, west of Perth.
"This is a remote location far from any possible landing sites it is therefore with deep sadness and regret that I must inform you that flight MH370 landed in the Southern Indian Ocean," he said.