"Of course I've watched porn. Most people have. I don't think it is wrong or unhealthy," says 33 year-old actor, with a matter of fact shrug.
'Joe', as he likes to be called, adjusts his glasses, setting in for the discussion.
"Has watching porn had an impact on me? Probably," he grins.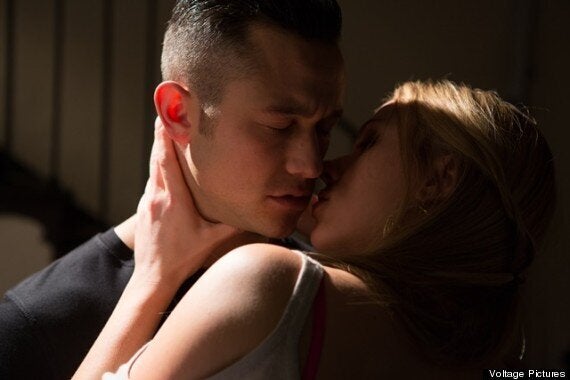 Joseph Gordon-Levitt teams up with Scarlett Johansson for 'Don Jon'
"But I would argue that it hasn't had any more impact on me than images from the mainstream media. The oldest trick in the book is putting a pretty woman on screen to sell your hamburger or your car," he leans forward on the sofa, elaborating on his theme.
"Whether it's X-rated or approved for general audiences the message is the same: this person, usually a woman, is nothing but a thing, a sexual object."
Why so much porn discussion? Because the film up for discussion is 'Don Jon', [now out on DVD] which he wrote and directed. Joe also stars in the comedy, which revolves around New Jersey barman Don Jon. Joe's anti-hero is an archetypal, chauvinistic ladies man, addicted to internet porn and casual sex. But then he falls for gum-chewing, voluptuous Barbara (the busy actress Scarlett Johansson), who has a different but equally hopeless addiction - to rom coms. "It's about how we connect with each," says Joe of his directing debut, "I'd call it a really f..... up love story."
He points out his concerns at the way in which male as well as female actors are "objectified' in films and on TV. "I find it startling how the media leads us to treat people like 'things'. Real life is more rich and beautiful, real people are way more complicated and sexy. If you're too busy comparing real life to over-simplified media images, then you're setting yourself up for disappointment. Don Jon is poking fun at this."
Is there something of the Don Jon in Joe? "Yes ..in all of us …" he says. "I wouldn't want to see my girlfriend as a possession. No, no!" he laughs. The specifics stop there. The actor never discusses his own relationship status.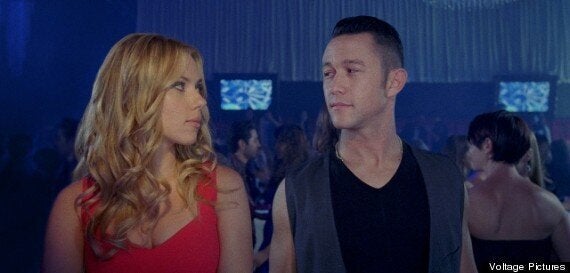 "It's a really f***ed up love story," says Joe of Don Jon's romance with Scarlett Johansson's character
We are seated in a corner of the low-lit room, but the actor still attracts attention. Five foot 10, black hair cropped, wearing a plain grey t-shirt over faded jeans, he looks leaner than his ripped character in 'Don Jon', who spends hours lifting weights in front of the mirror.
"I don't look like that anymore," he grins. "I was 12 pounds heavier." He bulked up eating protein "chicken, fish, nuts, fruit, no dairy or sugar or bread" and did weights "every day: chest on Mondays, shoulders Tuesdays, legs Wednesdays…you begin to feel like a different person."
The actor himself prefers basketball, "though I'm not very good at it, and walking around cities," to logging in hours at the gym. "Weight training is healthier than sitting on the couch but it's not a particularly good way to treat your body."
The younger of two sons, Joe was born and raised in the San Fernando Valley, close to LA. His parents, Dennis Levitt and Jane Gordon, a long time feminist, met working at a politically progressive radio station. His mother once ran for Congress before becoming a full time mother.
"I've learned from a lot of great people, but my mum was the first and most important one," says Joe. "She was liberal and left wing," raising the two boys, "in such a way that we learned to care not just about ourselves but about the world." He says Don Jon is a tribute to his mother. "I've written a comedy about everything she wanted to instill in me."
As a child, Joe was involved in community theatre and remembers playing The Scarecrow in the Wizard of Oz aged four. "One day mum asked me: 'do you want to try out for commercials and TV shows' and I said 'Yeah!'" He was cast in adverts for Sunny Jim peanut butter and Cocoa Puffs. TV roles followed.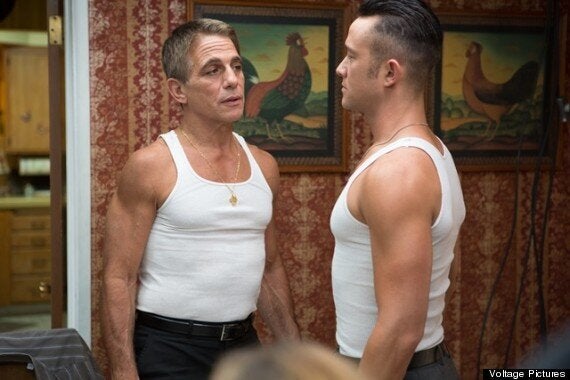 Joe had to beef up for his role - "not particularly good way to treat your body," he says
Joe became a household name, aged 15, in the popular TV show 'Third Rock From The Sun', as an old alien inhabiting a young boy's body. He survived the often treacherous transition from child star to consummate adult performer; his global breakthrough came when he starred with good friend Zooey Deschanel in the excellent, off-beat romcom '(500) Days of Summer', (2009) which earned him a Golden Globe nomination.
Two years later he played a young man with cancer in 50/50, with Seth Rogan. He has starred in heavy-hitting mainstream hits: 'Inception' (2010), 'The Dark Knight Rises' (2012), and Steven Spielberg's 'Lincoln' (2012) for which Daniel Day Lewis personally requested Joe to play his son. The biopic of the historic American President who outlawed slavery, went on to be nominated for 12 Oscars, winning two.
"I think Daniel is a phenomenon." says Joe of his Oscar winning co-star . On set, " I called him Sir and he called me Robert. I only heard his Lincoln voice," says the actor, who never 'spoke' to Day-Lewis until the end of the shoot in Richmond Virginia.
"He strode into the pub in jeans and a T-shirt just like some dude I'd be friends with, this sweetheart of an Irishman. He was so excited about having a Guinness, because he hadn't had one for a year while preparing for this role. He was so happy. He's a very, very special artist."
The same could be said about another Daniel, Joe's older brother, a photographer and fire spinner [performance artist with flaming torches] who died in a tragic accident, aged 36, in 2010. The brothers were extremely close and while the subject is clearly still painful to Joe, he is keen to share and celebrate his brother's life.
"He's my big brother. He's my hero, he was my confidante and my best friend from who I learned everything - even how to talk and walk," says the actor. "He inspired me to take risks, saying you can do it, don't worry about failing… the biggest kick he ever got was if he could get someone to try something new. I was an enormous beneficiary of that spirit."
Together the brothers founded an innovative production company, hitRECord in 2005 –which Joe now runs. "It's very much what Dan was about – encouraging people to be their best." The thriving company now has over 80.000 members.
Each day, over 1000 videos, songs, text pieces and artworks are uploaded onto the site, to be sampled and share by hitRECord members, creating original, collaborative songs, stories, and short films.
The company's newest project is a TV show: hitRECord on TV. "It's hard to find a comparison but the closest thing I've come up with is 'Sesame Street' (he's referring to the US children's show),"he says. It's not for kids but it will have that diverse variety – a classic kind of vaudevillian song and dance show with cartoons, puppets, films."
He lives in LA but Joe confesses he has a passion for London. "I finished my first draft of 'Don Jon' while I was there working on The Dark Knight Rises. What I love is that it's more normal in London to be really, really, really into the arts. " He clicks his fingers. " In American, it's considered snobby to care that much."
When he's in London you might spot Joe at the British Film Institute. He is a huge fan. "There's nothing like it in the United States. There are cool revival house cinemas in LA and NY but they're scrappy places and certainly not government funded, that's for damn sure. "The BFI is so cool, like a museum-cum-cinema, people actually come and it's popular!"
Success (or more precisely fame,) he regards as "certainly double-edged. It allowed him to make 'Don Jon' and hitRECord on TV "I'm very grateful for that." But then he points out his concerns at the fact that leads pioneers in science and medicine to remain anonymous, while film stars are household names:
"I'd compare this kind of fame to royalty," he comments. "You British still have royalty. In the States even the word has a negative vibe; overthrowing royalty is the foundation of our nation. But instead we've invented this new kind of royalty - 'celebrity'. I don't see myself in that category so when other people place me there I find it disconcerting."
Continuing to grapple with that dichotomy, Joe simply focuses on the job. "I work a lot," he confesses. "The truth is, I don't really do anything else with my time." He taps the coffee table, pauses for thought, then grins. "I basically like to watch movies and eat. No I don't think I live a balanced life. I work six or seven days a week, very long hours and I love it!"
Popular in the Community