In the Black Sea peninsula, even the dolphins are political property.
In what must be considered the final insult, Ukraine's combat dolphins are to raise their fins in allegiance to Russia, switching their loyalties to the Russian Navy.
According to an employee at the combat dolphin programme in Sevastopol, Crimea, the Russian navy will now oversea all things military dolphin-related, RIA Novosti reported.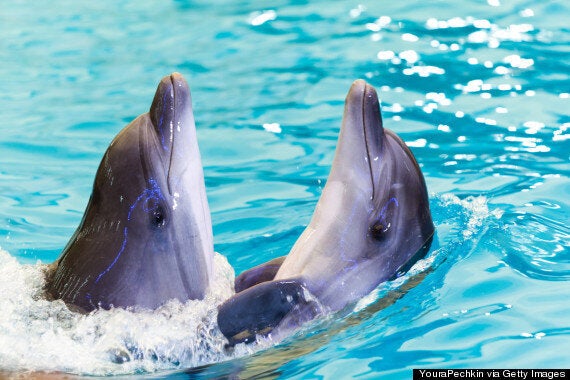 The killer dolphins now belong to Russia
The combat dolphins are trained to identify underwater military threats, including spy equipment, enemy scuba divers (known as frogmen), or mines on the ocean floor.
As ludicrous as such a programme may sound to the untrained ear, dolphins have a sensitivity underwater which far exceeds the most advanced man-made sonar systems. Dolphins can also allegedly distinguish foreign and friendly submarines by the sound of their propellers.
It has oft-been rumoured that Soviet forces once trained killer dolphins, equipped with hypodermic needles loaded with carbon dioxide. In 2012, it was reported that the Ukrainian navy planned to resurrect the concept of dolphin assassins, by training them to attack enemy combat swimmers using special knives or pistols fixed to their heads.
The dolphins may well welcome the change of allegiance. Far from being trained as James Bond-esque killing machines, a change of heart by the Ukrainian navy about their priorities saw the dolphins set to be made redundant next month. But Russia intends not only to keep the dolphins, but to kit them out with new equipment.
"The oceanarium's engineers are developing new instruments for new applications to boost the operational efficiency of the dolphins underwater," the employee told the Russian news agency.
"Our experts have developed new devices, which convert the detection of objects by the dolphins' underwater sonar to a signal on an operator's monitor.
"But the Ukrainian Navy lacked the funds for such know-how, and some projects had to be shuttered."
The future for the combat sea lions, who also operate from the base, is more uncertain, though the RIA Novosti source said he hoped the combat programme would also train them.
Russia and the US were the only nations believed to have actively invested in combat dolphins, with the Soviet dolphins transferring to Ukraine after the collapse of the Soviet Union.
In total, 27 animals, including walruses, sea lions, seals, and a white beluga whale, were sent to the Persian Gulf.