Microsoft has unveiled a full suite of 'Office' apps for Apple's iPad tablet.
The landmark move to bring its flagship software to Apple's market-leading device has been rumoured for years, but was finally unveiled by new CEO Satya Nadella.
The new trio of apps (Word, Excel and Powerpoint) are free to download for viewing files and giving presentations, though a paid Office 365 subscription is needed to create and edit documents.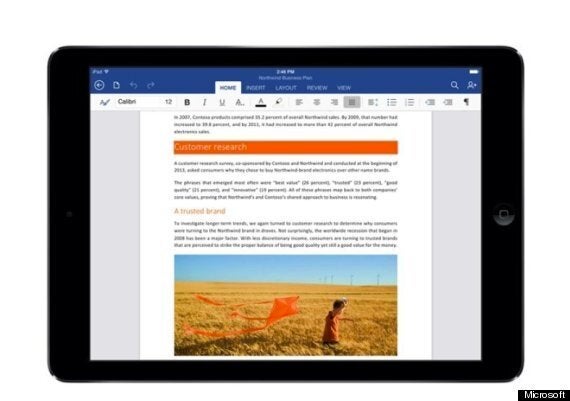 Luckily, you can get a free trial over at Office.com, if you want to see how the software works.
The good news is that the apps look great, and are not just the same as the iPhone version blown up for the bigger screen. The iPad version includes most of the core functionality of Office, including tons of fonts and custom text options, and should be immediately familiar to anyone used to running the software at work.
There are also some neat unexpected features. For instance, when running Powerpoint presentations you can use your finger on the iPad screen as a digital 'pointer', which will be shown on on a bigger screen when mirroring through Airplay.
It seems like customers are keen - Word is already the most downloaded free app in the App Store, with the other two apps not far behind.
"Microsoft is focused on delivering the cloud for everyone, on every device. It's a unique approach that centers on people — enabling the devices you love, work with the services you love, and in a way that works for IT and developers," said Nadella.