More than 40 people gathered in London today to protest against the deportation of Mauritian student Yashika Bageerathi.
The demonstrators, mainly sixth form students and teachers from Yashika's school - the Oasis Academy Hadley, held banners and sang songs in protest against the decision to deport the 19-year-old in Parliament Square.
A-Level student Yashika, has been given plane tickets by the Home Office and told to leave the UK without her family on Mother's Day or "removal may be enforced", according to her school.
Story continues after slideshow...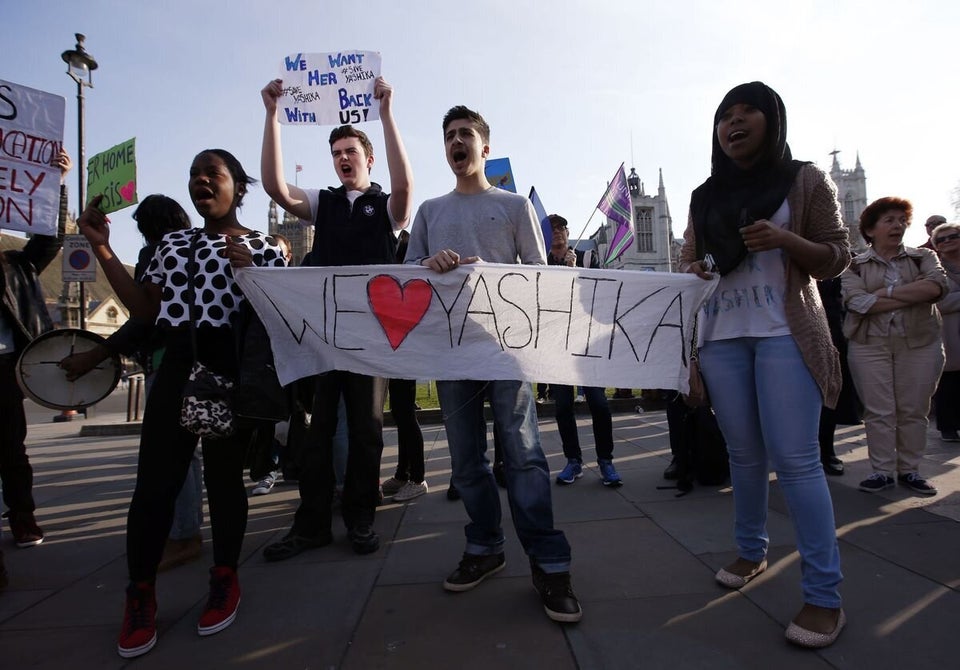 Yashika Bageerathi Protest
She has been in Yarl's Wood Immigration Removal Centre since Wednesday, March 19.
Her mother, brother and sister Shaviya - who was also at the protest - have been told they also face the threat of deportation after receiving a letter from the Home Office telling her mother she had no grounds for appeal.
Yashika's best friend said she hoped the Home Office would show compassion to the student and her family.
Courage Emeha, 17, a student at the Oasis Academy, said: "Yashika is a wonderful person and I don't like that something like this is happening to her."
"I spoke to her yesterday and she sounded calm and logical - and half of people in her position wouldn't be.
"I hope that the Home Office can be compassionate towards her, but so far they have been slow and reluctant."
Demonstrators banged drums, blew whistles and held banners reading: "Fight for Yashika" and "Yashika is our family."
Lee Pedder, also a sixth form student at the school, said he was demonstrating so that elective representatives would listen to them.
Lee, an A-Level student, said: "The chances are against us, but we are trying to make those who should be representing us listen. Over 150,000 are behind us already and we can make a change."
The school's principle, Lynne Dawes, said she hoped the protest would force Home Secretary Theresa May to intervene in Yashika's case.
"We're hoping the Home Secretary will look favourably on this and stop her removal which is due tomorrow."
"I have a spoken to Yashika twice today and she is really worried. She said to me 'what am I going to do Miss?'"
Yashika's mother, who is also facing deportation, is "struggling" and "tearful", added Ms Dawes.
"We can only hope that Air Mauritius may refuse to take her on the flight, which is due to leave at 5pm," said Ms Dawes.
The promising student came to the UK with her mother, sister and brother in 2011 to escape a relative who was physically abusive and claimed asylum in the summer of 2013.
It was hoped Yashika would be released on bail from the centre this week, but the campaign to keep her and her family in Britain was dealt a blow on Tuesday evening when they were told they all faced the threat of deportation after receiving a letter from the Home Office.
A petition by the students calling on Immigration Minister James Brokenshire and Theresa May to stop the deportation has garnered nearly 155,000 signatures on website change.org.
Popular in the Community