Sarah Harding is used to being the centre of attention wherever she goes, but even she was overwhelmed by her latest encounter.
The former Girls Aloud singer queued up for a snap with Tom Cruise at the Jameson Empire Awards on Sunday night in London, and posted her reaction on Twitter, along with the pic.
Arnold Schwarzenegger also received a special anniversary award, the Action Hero of Our Lifetime gong, in recognition of his work in 'Predator', 'Terminator', 'Total Recall' and other blockbuster films that helped define our current idea of the all-action hero.
Arnie told an appreciative audience that when he first won Mr Universe and decided he wanted to be in movies, 'they' all told him there was no hope - his body was too over-developed, he had a ridiculous name and a foreign accent.
"Never listen to the naysayers," he said. His acceptance speech managed to be both inspiring and very, very funny. More here...
Meanwhile, Sarah Harding, who made her mark in the 'St Trinians' film, was there to present the Best Male Newcomer award. She was later seen giggling with actress Kate Beckinsale.
It was a star-studded occasion at the Grosvenor Park Hotel in London, with other guests including Hugh Jackman, Oscar winner Emma Thompson, directors JJ Abrams, Paul Greengrass and Darren Aranofsky, Simon Pegg, Steve Coogan, Margot Robbie, James Macavoy, Sally Hawkins and Stephen Fry.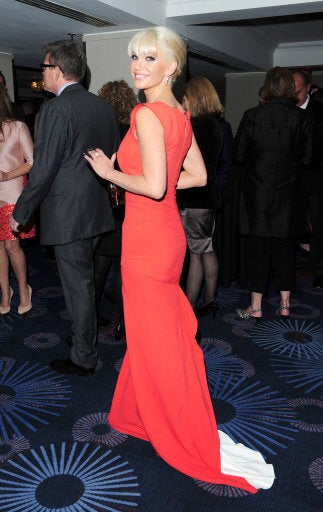 Jameson Empire Film Awards
Popular in the Community