Racist? Bigoted? A fan of pointy hoods? Then do we have some good news for you.
The white supremacy group The Ku Klux Klan has stepped up its campaign against immigrants by launching a recruitment drive across the country.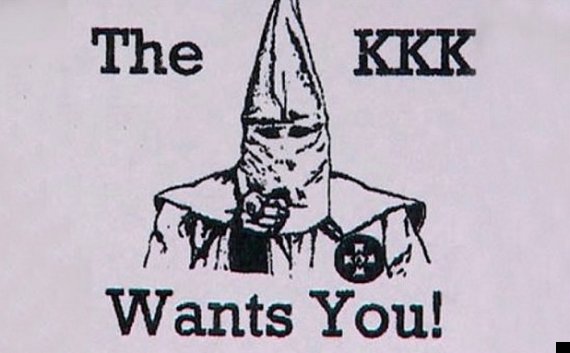 American neighbourhoods in Texas, Louisiana, Illinois and Pennsylvania must have been thrilled to discover leaflets in their letterboxes and on car windshields that read, "The KKK Wants You!" - complete with a depiction of a hooded figure adorned with Klan insignia pointing at the reader.
The group, whose campaigns are legal under the US constitutional right to free speech, aims to oust President Barack Obama and eradicate immigration.
The leaflets provide contact numbers for local recruiting offices, as well as "24/7 hotlines" and associated websites.
"Someone is passing out hateful flyers in the Acadiana area, telling Eunice residents the KKK is 'awake'," reported WGNO of New Orleans.
The flyers were signed by the "Loyal White Knights," which their website Loyal White Knights of the Ku Klux Klan claims is "the largest and most active Klan in America."
The website charmingly states a litany of things the group hates, including: "We hate drugs, homosexuality, abortion, and race-mixing because these things go against God's law and they are destroying all white nations," it declares.
Kevin Benton, a spokesman for the Rhome sheriff's office, Texas, said the town had not seen such a leaflet since the 1990s and while the leaflets were not illegal, they caused concern.
"You wish it was something from the past, that you hoped everyone had gotten beyond that," said Benton.
Also in DeLand Florida, several African-Americans said they found racially insensitive flyers at their homes which contained hateful comments about African-Americans.
The number of hate groups has increased since 2008 when Obama became the first black president in the US and now there are 1,360 right-wing, self-styled patriot groups and around 1,000 specific hate groups in the country.