Pep Guardiola has all-but-confirmed he was Sir Alex Ferguson's first choice to succeed him as Manchester United manager.
It was reported last season Ferguson met Guardiola in New York in September 2012, at the beginning of the Spaniard's year-long sabbatical following his four years in charge of Barcelona.
Although Ferguson claims he decided to retire three months later, after his sister-in-law had passed away, he had dinner with Guardiola and then-United chief executive David Gill, when it is believed he informed Guardiola of his preference that he succeed him.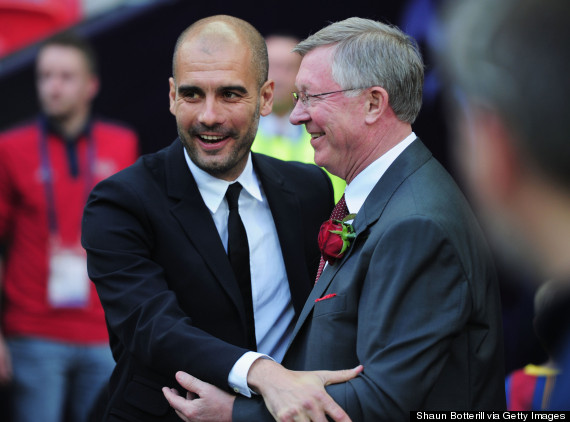 Guardiola defeated Ferguson in two Champions League finals as Barça coach
However, Guardiola, who had already been tentatively approached by Bayern Munich the previous year, agreed to coach the German giants in January 2013 and Ferguson instead anointed David Moyes in May.
Guardiola conceded he may have been given a chance to take the position at United, but joked the offer was lost in translation due to Ferguson's thick Glaswegian accent.
"He invited me to a super restaurant (in New York)," the Bayern coach said. "It was a friendly dinner, like always. He was so gentle and we spent a very good time together.
"My English is not so good and when Sir Alex spoke quickly I didn't understand him so maybe I didn't understand if I received an offer or not!"
Chelsea also made Guardiola an offer to succeed Roberto di Matteo after he was sacked in November 2012.
The Spaniard has long been sought after by Blues owner Roman Abramovich and Guardiola has previously said he is keen to manager in England in the future.
Manchester City could also be an option, with former Barça director Txiki Begiristain and general manager Ferran Soriano both at Eastlands.