A Scottish Labour MP has hit out at how "poisonous" the debate over Scotland's independence has become after pro-independence campaigners "vandalised" his office.
Edinburgh South MP Ian Murray told HuffPostUK that his staff had found "a dozen" 'Yes Scotland' stickers stuck on the windows and doors of his constituency office. Murray's staff took a photo of one of the stickers, before spending nearly an hour removing them and cleaning up.
"I've since found out that they've been passing them out all over Edinburgh, putting them on lamp posts, bus stops and litter bins," he said.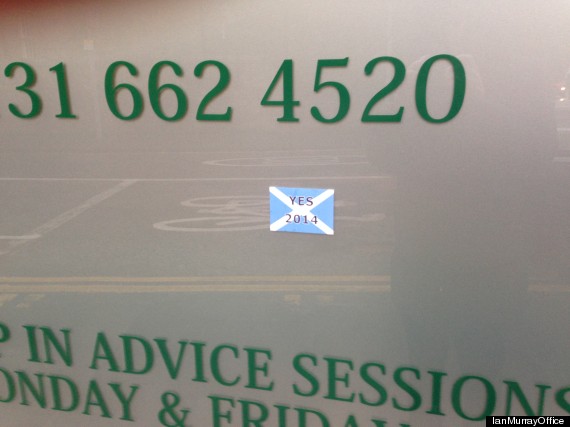 "It's not anything to lose sleep over, but the biggest thing is I'm concerned about how poisonous the debate is getting."
Murray tweeted about the incident on Tuesday but was deluged with replies from Scottish independence supporters pouring scorn on his claim that Yes supporters had "vandalised" his office and accusing him of telling "porkies".
@UK_Together my constituency office was vandalised by Yes supporters last night. I can take personal abuse but it's getting out of control.

— Ian Murray MP (@IanMurrayMP) April 1, 2014
"If you add the stickers, my tweeting it and the response, I was quite right to be concerned," he said.
The Labour MP didn't report it to the police as he didn't feel it was serious enough, but made the local chief inspector aware of the incident as part of a response to a message introducing a new inspector.
Murray spoke out after seeing pro-independence campaigners threaten to boycott Barrhead Travel after the company boss wrote a memo to staff warning that independence would be a "disaster".
He said: "I'm responsible for four members of staff who work in my office, who have nothing to do with this. They work hard for very little reward, they have to wash stickers off windows and cope with people who send abusive emails. I don't think it's acceptable.
"The campaign going on with the cybernats is Scotland's shame, and I think it's quite right to say that."
Other Labour figures have expressed concern about the behaviour of the so-called "cybernats", with former Scottish secretary Jim Murphy recently hitting back at the "cybernat trolls" who attacked him with a "bucket load of personal bile".
Writing on his blog, Murphy, who now serves as Ed Miliband's shadow international development secretary, said he had received "vindictive and vile" abuse on Twitter and Facebook after he criticised Alex Salmond's plan for how Scotland would leave the United Kingdom.
"If people want to criticise my politics, no bother. But I'm no longer just going to go with the flow when it comes to the worst of the internet insults," Murphy said.
See also:
Read more:

5 Furious Twitter Reactions To Kermit The Frog Opposing Scottish Independence

Jim Murphy Attacks 'Vile' Scottish Nationalist 'CyperNat Trolls'

Scottish Independence: 10 Business Leaders Who Want The UK To Stay Together