Prince Harry and London Mayor Boris Johnson became the Kings of Swing for a day when they tested the new attractions at London's Queen Elizabeth Olympic Park.
On their playdate with local school children, the pair negotiated their way across rope bridges and Harry was pushed high in the air in the swings, ahead of the park's official opening tomorrow.
It will be the first time the public will be able to access it since the London 2012 Olympic and Paralympic Games.
When he got off the swing, Harry told the children: "Now I get to push you."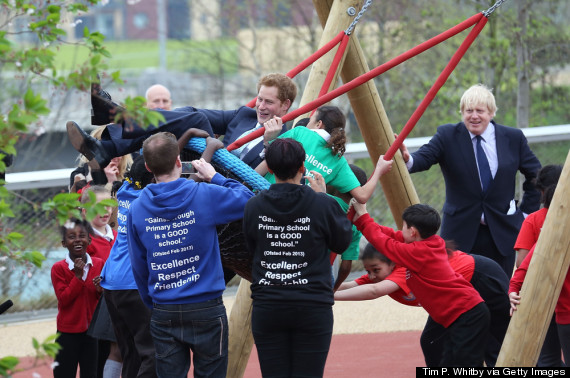 Boris Johnson watches as Prince Harry is pushed in a swing by local schoolchildren in the new Queen Elizabeth Olympic Park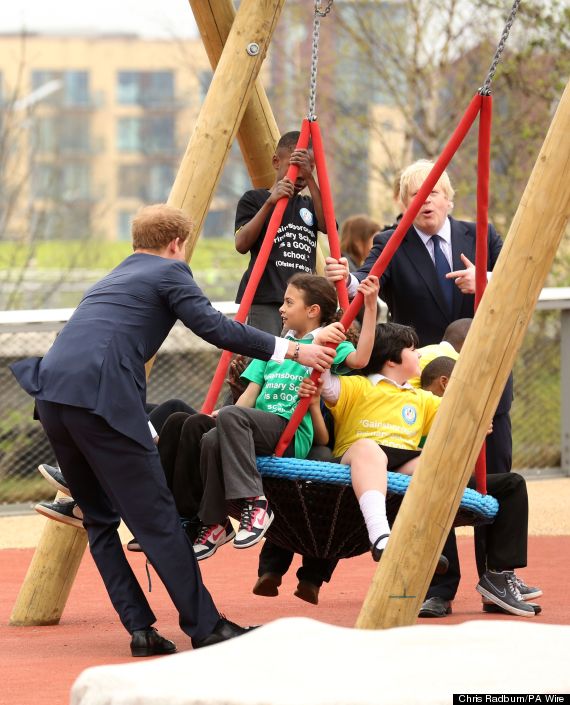 Prince Harry has his go pushing local schoolchildren on the Olympic Park's new swings
The Prince said the young Prince George might one day play in the new park. He added: "You never know, the Olympics might be back here again before we know it."
On hearing this, Mr Johnson joked: "We'll put in for the Winter Games!"
The Prince added: "The amount of money that has been spent and the creativity as well, I think it's brought it to life.
"I think the members of the public will get a chance to come here and for kids obviously they absolutely adore it, playing in the sand."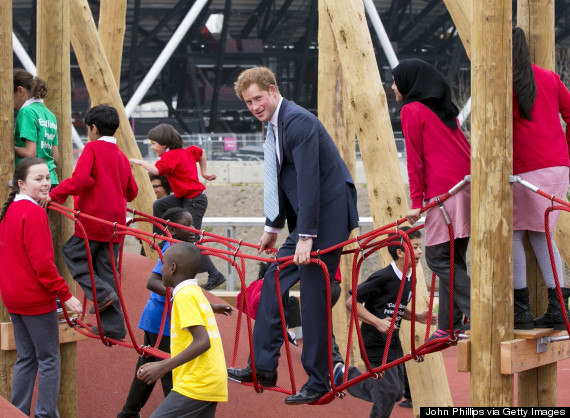 As well as swinging high into the air, Prince Harry fearlessly tackled the rope bridge
When Mr Johnson asked Harry what he thought of the park, he said: "I love it. I think it's absolutely amazing. I can't wait to see it full of people."
"People will be pouring through the place. The sun will be out. (It will be the) longest summer we've ever had, I'm sure."
He added: "It's far more beautiful than I possibly thought it could be. This is going to be a quite astonishing place to come and bring your family."